Dhaka airport 3rd terminal
Possible game changer
Final preparations underway for partial opening on Oct 7
Final preparations are underway for the soft inauguration of the third terminal of Hazrat Shahjalal International Airport -- a possible game changer in the country's aviation sector.
Prime Minister Sheikh Hasina is scheduled to inaugurate the terminal building on October 7, said Civil Aviation Authority of Bangladesh Chairman Air Vice Marshal M Mafidur Rahman.
The new terminal is expected to provide world class service to the air travellers. However, they will have to wait till the end of the next year when this terminal will become operational. This time will be required due to the necessary calibration and preparation of the equipment used in terminal operations, he said.
Airlines, however, will be able to use the new parking apron and taxiway of the third terminal after the partial opening. The two old terminals' aprons can accommodate 29 aircraft at present.
Mafidur Rahman said a total of 37 aircraft can be parked at a time, once the terminal, with an area of 5,42,000 square metres, is fully opened.
"Almost 90 percent of the work of the mega project is completed. Structure of the terminal is ready, and work is going on at present for interior decorations and to install necessary equipment and technology," he added.
Ahead of the third terminal's full operation, different foreign airlines are eyeing to start their operation from Dhaka Airport, which will play a great role to take the country's aviation sector forward, experts said.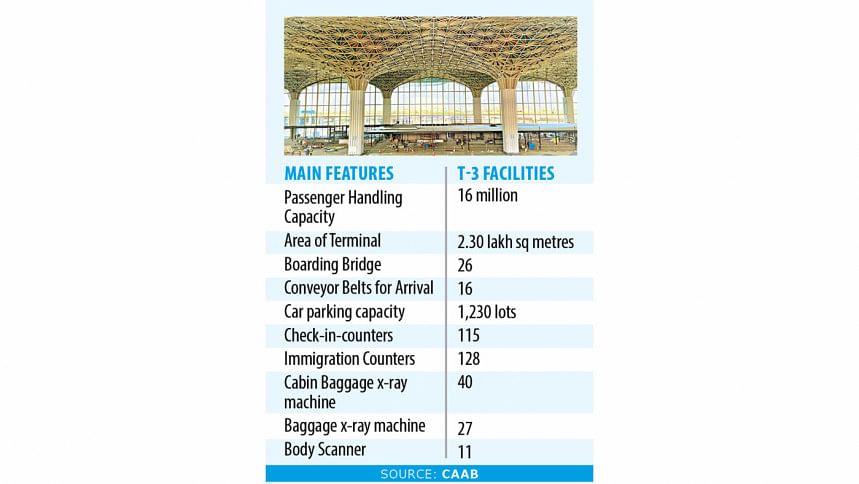 According to sources at the Civil Aviation and Tourism Ministry, at least 15 new foreign carriers -- including Swiss Air, Air Canada, Air France -- have already expressed their interest to operate flights to and from Dhaka.
The new terminal will accommodate a baggage handling system, an arrival lounge, a cantina, a duty-free shop and boarding bridges, according to CAAB.
There are two rapid exit taxiways, covering 41,500 square metres, to allow an aircraft to leave the runway quickly after landing so that it can be used by other aircraft for take-off or landing.
A large lounge for transit passengers in the new terminal will serve 40,00,000 passengers annually.
A corridor to connect the new terminal with two old ones will be constructed in the second phase of the project.
There will be a hall and six channels for customs for passengers arriving from other countries.
The terminal will have a 3,650-square-metre area dedicated to serve VIP passengers.
HSIA's two terminals currently handle around 150 flights of 30 airlines while serving about 25,000 to 30,000 passengers daily.
Currently, passengers undergo manual security checks at HSIA. However, this practice is set to be changed in future with entirely automated security checks, eliminating the need for physical contact during the screening process right up until the passengers are aboard the plane.
Once fully operational, the third terminal will provide seamless travel transitions to the passengers to and from the airport, Caab officials said.
The on-going construction of underground tunnels and flyovers, with effortless access to ground transportation, including metro rail and Dhaka elevated expressway, will significantly enhance travel convenience, they added.
Airline lounges, dayrooms, movie lounges, play-zone for children, and food courts will cater to passengers' needs and comfort.
Designed by renowned architect Rohani Baharin, the new terminal's construction work began in December 2019 at a cost of Tk 21,398 crore.
Japan International Cooperation Agency is providing Tk 16,141 crore as loan while the rest Tk 5,257 crore is provided by the Bangladesh government.
Japan is going to get the ground handling job of the third terminal.
The construction work is being done by Japan's Mitsubishi, Fujita and South Korea's Samsung.