HSIA third terminal: Japanese firm to handle ops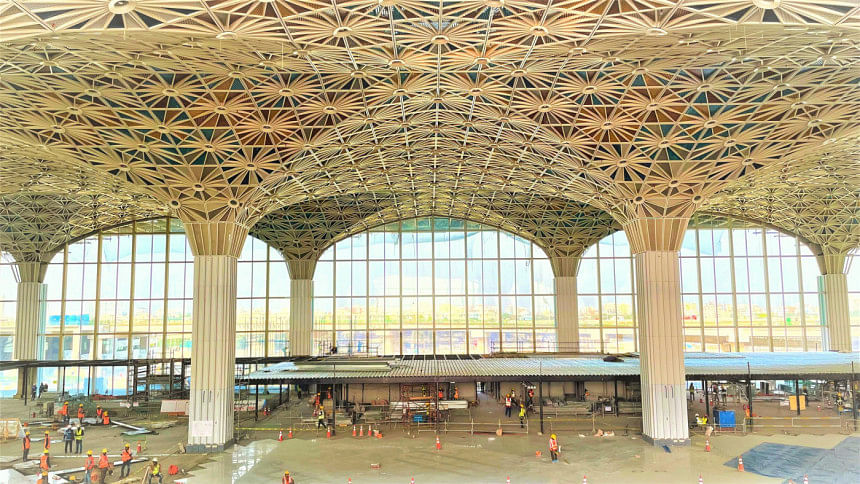 A Japanese company is getting the job of operating the third terminal of Hazrat Shahjalal International Airport (HSIA), which includes ground and cargo handling, Civil Aviation Authority of Bangladesh (CAAB) Chairman Air Vice Marshal M Mafidur Rahman said today.
The CAAB boss said this at the "ATJFB Dialogue" organised by Aviation and Tourism Journalists Forum of Bangladesh (ATJFB) at the HSIA.
ATJFB President Tanzim Anwar moderated the programme.
Although the Japanese company will carry out the job of operating the third terminal, administrative, security, immigration, and customs services will be provided by officials and employees of the government agencies concerned, CAAB officials told this correspondent after the programme.
Several domestic and foreign companies have shown interest in operating the third terminal.
The government in January approved in principle that the third terminal would be operated and maintained under Public-Private Partnership.
At present Biman does the ground and cargo handling in all eight airports. Ground handling is a major source of income for Biman as it earns around Tk1,500 crore yearly.
Amid widespread dissatisfaction of government high-ups over poor luggage handling services, CAAB decided to outsource the job to a company that can deliver international standard services and serve passengers in the best possible way.
Around 77 percent of the construction work of the third terminal has been completed so far while the partial opening of the iconic terminal will take place for operation in October.
The spectacular terminal building is now widely visible. Currently, the interior decoration of the terminal building and the installation of various types of equipment are going on.
The terminal will be fully functional in 2024.
Starting in December 2019, the construction works of Terminal 3 have cost Tk 21,399 crore so far. 70 percent of the funding for which is coming from the Japan International Cooperation Agency (Jica).
The three-storeyed terminal building, which will be 2.30 lakh square metres, will be built by Mitsubishi and Fujita of Japan and Samsung of Korea.
It will have 115 check-in counters, 64 departure and 64 arrival immigration desks, 27 baggage scanning machines, 40 scanning machines, 12 boarding bridges, 16 carousels and 11 body scanners.
There will also be a new car parking facility for 1,230 vehicles, a new 63,000 square metre import and export cargo complex, and a 5.42 lakh square metre apron for 37 aircraft, among others.
Around two crore passengers will be able to use the HSIA following the construction of the third terminal.