PM to visit flood-hit districts tomorrow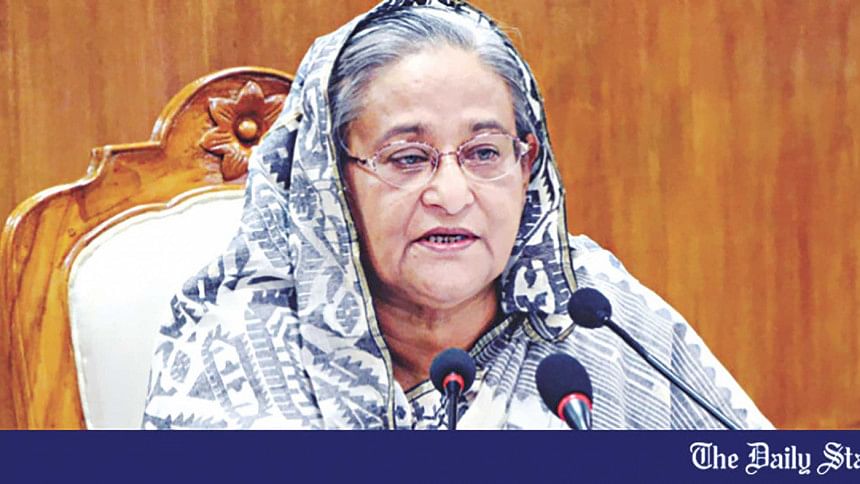 Prime Minister Sheikh Hasina is expected to visit the flood-affected areas in Sylhet, Sunamganj and Netrakona tomorrow.
Sylhet Divisional Commissioner Mosharraf Hossain, who was informed by the PMO over phone, confirmed this to our Sylhet correspondent yesterday evening.
The details in this regard are yet to be officially announced.
The PM will travel by helicopter, accompanied by central Awami League leaders in charge of the respective districts, said Biplab Barua, AL office secretary.
Meanwhile, Hasina yesterday said the Padma Bridge will be a blessing to the people of the South, according to a UNB report.
"I think the inauguration of Padma Bridge on June 25 will come as a blessing from Allah, as we will be able to establish rapid communication with the southern region and promptly help the people in case of floods [and other natural disasters]."
She said this at a reception for 2021 SAFF Champions – the Bangladesh Under-19 Women National Football Team -- at her office in the capital.
Noting that the country's north-east has been massively hit by floods this time, she said such deluges will affect the southern regions too.
The premiere said she opened the Bangabandhu Bridge over the Jamuna just before the long-lasting 1998 flood across the country.
"The flood had affected the southern region and the people of this area got help from the northern districts as the bridge helped maintain communication for uninterrupted transportation of goods and other essentials."
The PM said crossing the river like the Padma becomes dangerous due to strong current during such floods and disrupts the communication.
"When the Padma Bridge opens, we'll get the scope to continue relief operations and provide other assistance and medicines in the flood-hit areas."
She said the government has taken all measures, including providing relief and assistance to the flood-hit people by the Army, Navy, Air Force, and all government agencies concerned.
Besides, leaders and activists of the ruling Awami League and its affiliates are also helping the flood victims in their respective localities, said Hasina, also the AL president.
"When the water recedes from the north-east, other regions downstream will be flooded. So, our Mymensingh and Rangpur divisions are also likely to face it. We [the government] are taking precautionary measures in this regard," she said, adding they have also taken preparations for the post-flood situation.
About sports, she emphasised on the arrangement of inter-college and inter-university competitions to pick players for national sports teams.
The PM also urged the industrialists and businesspeople to come forward in helping the players and thus promote sports.
"It is not right that you would just do business, set up industries and make money. You will have to do something for the country."
Zahid Ahsan Russel, state minister for Youth and Sports, and Kazi Salahudding, president of Bangladesh Football Federation, also spoke.