Nothing to see there anymore
Ancestral house of trailblazer Leela Nag demolished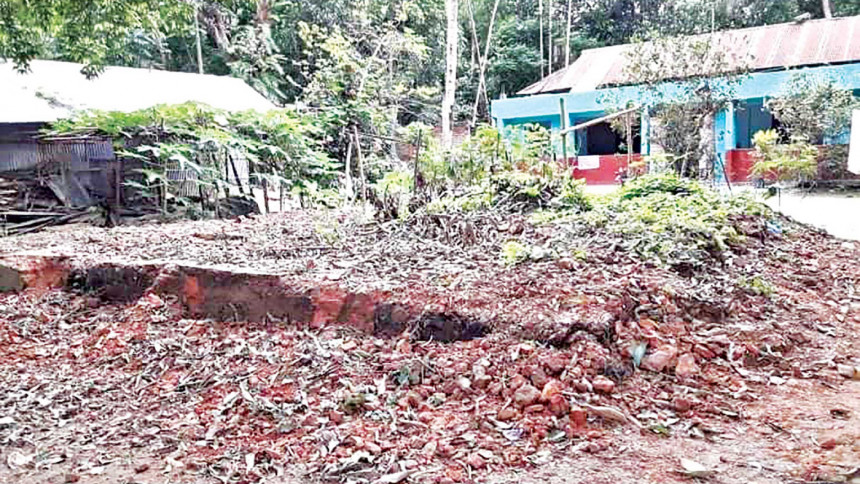 Leading British architect-planner Graeme Shankland once said, "A country without a past has the emptiness of a barren continent, and a city without old buildings is like a man without a memory."
This year, when the Dhaka University is celebrating its 100th founding anniversary, all signs of the century-old ancestral home of Leela Nag -- the university's first female student and a revolutionary -- have "vanished into thin air" mysteriously.
Leela Nag was born on October 2, 1900 to Kunjalata Nag and Rai Bahadur Girish Chandra Nag, a retired deputy magistrate of the then Dhaka district. Leela married Anil Roy in 1939 and became better known as Leela Roy.
One of the foremost revolutionaries in colonial Bengal, she was a close associate of Netaji Subhas Chandra Bose. Preetilata Waddedar, a martyr of "Chittagong Armoury Revolt", was one of Leela's student recruits for Deepali Chhatri Sangha -- a revolutionary student group formed by Leela. She was a social reformer and advocate of women's rights and education.
Locals said Leela's house -- in Panchgaon village of Moulvibazar's Rajnagar upazila -- existed even two and a half months ago. But they could not comprehend as to how a house of such a historic significance disappeared suddenly despite a High Court injunction that prohibits anyone from demolishing or removing it or undertaking any construction work on it.
Aklu Mia Chowdhury, president of Leela Nag Smriti Parishad, confirmed that the house was there two to three months ago.
Leela was the founder editor of "Jayasree" -- a Bangla monthly women's magazine, he said, adding that the house should be reconstructed so it becomes a centre of education, literature and culture for future generations in the upazila.
According to retired teacher Indrajit Deb, general secretary of the Parishad, Leela's ancestral home included a bungalow, a pond and a school -- founded by her mother Kunjalata Nag in 1938 -- on 5.97 acres of land. The school, Kunjalata Government Primary School, was nationalised a while back.
During the Pakistan rule in 1967, after Leela's family had moved to India, one Alauddin Chowdhury emigrated from Assam's Karimganj and occupied the house, he added.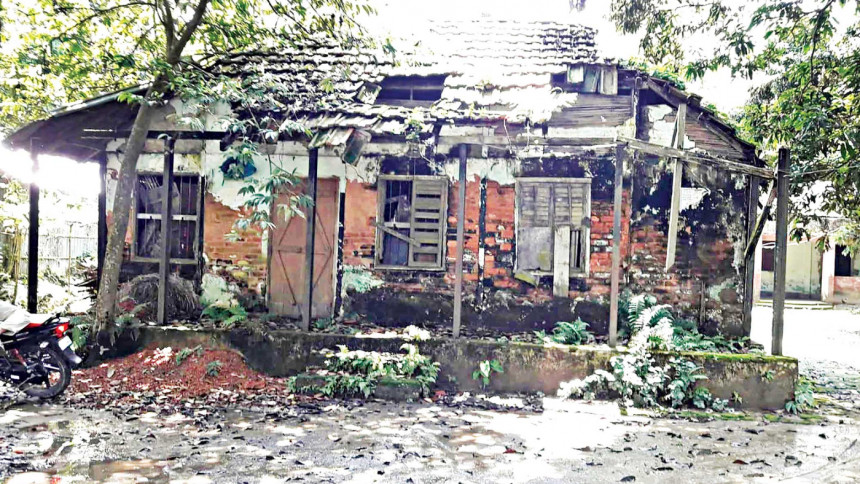 According to researchers and local freedom fighters, Alauddin collaborated with the Pakistan occupation army during the Panchgaon genocide that left 59 Hindus slain on May 7, 1971.
Sajal Kumar Chakraborty, commander of Muktijoddha Sangsad's Rajnagar upazila unit, also a witness at the trial over the genocide, said the International Crimes Tribunal found evidence of Alauddin's involvement in crimes against humanity such as abduction, torture, confinement, murder, looting and arson in Panchgaon of Rajnagar upazila in 1971.
In July 2018, the tribunal sentenced four people to death in connection with the massacre, but Alauddin's name was not mentioned in the charges as he died before the start of the investigation in October 2014, he also said.
Alauddin, till his death in 2013, "occupied" 4.39 acres of Leela's ancestral property by making lease claims at the court. His son Abdul Munim Chowdhury is continuing the legal battle and still holds possession of the property.
On September 9, 2019, this paper ran a report on the state of the house, headlined "A house that could have been a museum", along with a photo of the brick bungalow with its clay tiled roof extended on the front porch, supported by iron columns.
But during a recent visit this year, nothing but the vaguely recognisable elevated brick foundation of the house was found at the site.
Asked about Munim's whereabouts, his mother Shamsunnahar Chowdhury said he was not home at the time.
She however admitted that Leela's ancestral house "had collapsed some time ago" and they "had to remove the rubble from the area".
Bijit Dev, member of Leela Nag Smriti Pathagar, said as there is no iron column or debris piled up at the site of the house, it is apparent that a storm did not blow it away; rather, people with bad intentions must have dismantled and removed the signs of the bungalow.
Prof Robaet Ferdous of mass communication and journalism department at DU said Leela is a part of the glorious history of the university, from where thousands of women graduate every year and make their mark in different fields at home and abroad.
The DU teachers and students are saddened to learn that family of a Razakar in Moulvibazar has been occupying Leela's ancestral home, and they demand the occupants be evicted and the historic house be restored and preserved, he added.
According to the website of Jayasree Patrika, published from Kolkata in India, before getting her Master of Arts degree in English from Dhaka University in 1923, Leela graduated from Bethune College in Kolkata and was awarded Padmavati Gold Medal and a cash prize of Rs 100 for securing first position among girl students. Earlier in 1917, she completed her entrance examination with scholarship from Eden High School in Dhaka.
Contacted, Mir Nahid Ahsan, deputy commissioner of Moulvibazar, said the case pending in the High Court is barring them from taking any measures to preserve the memory of Leela Nag.