How long will the kids suffer?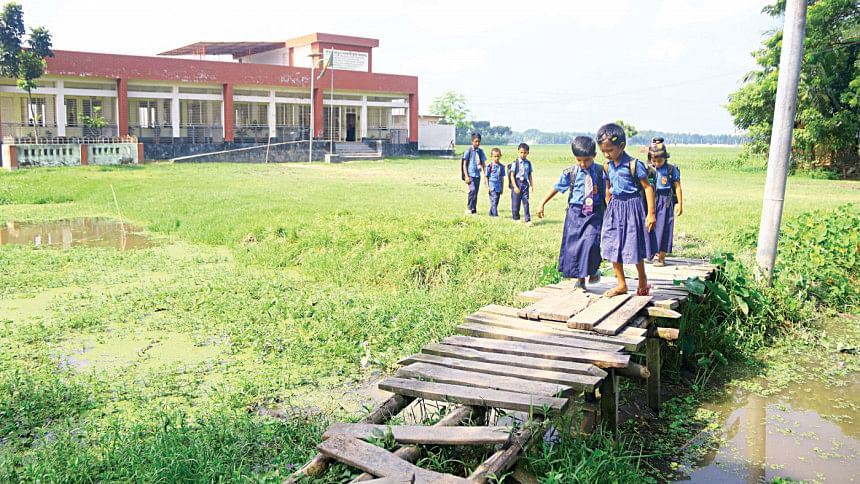 Students and teachers of Jahura Khatun Government Primary School in Kaliganj upazila have been facing serious difficulties as they have to cross two risky small wooden-bridges to get to the institution every day.
Moreover, the schoolground remains submerged for almost all the year round as the educational institution was constructed in the middle of a local waterbody, some 500 metres from Bakulia-Sreerampur regional road.
The government primary school, which was named after local lawmaker's mother Jahura Khatun, was established on 33 decimals of land in 2016.
The institution has five teachers against a total of 76 students.
But since its inception, the road that connects the school with Bakulia-Sreerampur road and two makeshift-bridges on small ditches have not been constructed yet.
As a result, teachers have to remain alert whenever the kinds come and leave the school every day.
During a recent visit to the school compound this correspondent saw little boys and girls were walking along the slippery narrow road pretty cautiously and crossing two risky wooden-bridges to get to the institution.
Fourth-grader Ripon Hossain said, "We can't play on the schoolground as it remains submerged most of the times of the year."
Sumaya Khatun, a Class III student at the institution, said they have to face serious difficulties while coming to the school as many of them often fall from the wooden bridges and get wet.
Headteacher Parvina Khatun said, a female assistant teacher fell from one of the wooden bridges a few months back and sustained severe fracture on her left foot.
She said a paved road and two small concrete bridges will be built soon.
Acting Kaliganj Upazila Primary Education Officer Mahmudul Hasan said they have raised the issue at the monthly law and order meeting and local Lawmaker Anwarul Azim assured them the road and bridges will be built within a short time.