How long will the children suffer?
Students wade through stagnant water to attend classes in Patuakhali school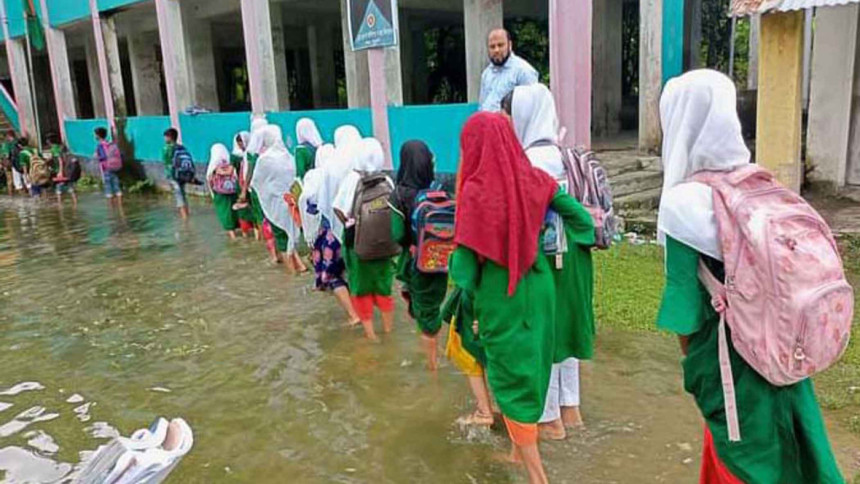 The challenges rural children in Bangladesh face to continue their education are manifold -- poverty, early marriage and a lack of facilities are only to name some.
On top of it, some  165 students of Guliauliapur Government Primary School in Patuakhali's Dasmina upazila have to wade through water to get to the classrooms as the school ground remains submerged for almost three months due to rainfall.
Talking to guardians and students, this correspondent found out that this is an usual sight every monsoon. As a result, these children often suffer from skin and cold-related diseases.
Besides, teachers and parents worry that the stagnant water can be a breeding ground for Aedes mosquitoes, responsible for the recent dengue outbreak throughout the country.
Armin Jahan, a fifth grader of the school, said they have to wade through knee-length water to reach school everyday. "Bad odour emits from the dirty water and we often suffer from skin diseases because of it," she added.
Echoing the same, another student  Hafiza Begum, said, "It seems as if there's no one to see our sufferings."
Besides, a flooded school-ground means these children are also being robbed of extracurricular activities, a thing which is particularly important for rural Bangladeshi kids.
Raisul Islam, a fourth grader said, "We can't play on the school ground as it remains submerged most of the times."
Anwar Hossain, a guardian, said the authorities are not taking any initiative to resolve the waterlogging issue. "Our children  have to wade through dirty water to go to school. They are catching different diseases as a result. On top of it, there is a fear of a dengue outbreak."
Contacted, Abdur Rahman, headteacher of the school, said, "As it is a low-lying area and there is no drainage system, even a little rain causes waterlogging. Our repeated appeals to resolve the matter have fallen on the deaf ears of the authorities concerned."
Rongopaldi UP member Imam Hossain Matubbar said, "Steps are being taken to improve the drainage system. Hopefully, the problem will be solved in a short time.
Local UP chairman ATM Asaduzzaman Nasir Sikdar echoed the same.
Dasmina Upazila Primary Education Officer (in charge) Al Mamun said, "I am aware of the situation. We have sent an application to the higher authorities to solve the problem."