88% bikers in road accidents don't wear helmets: Study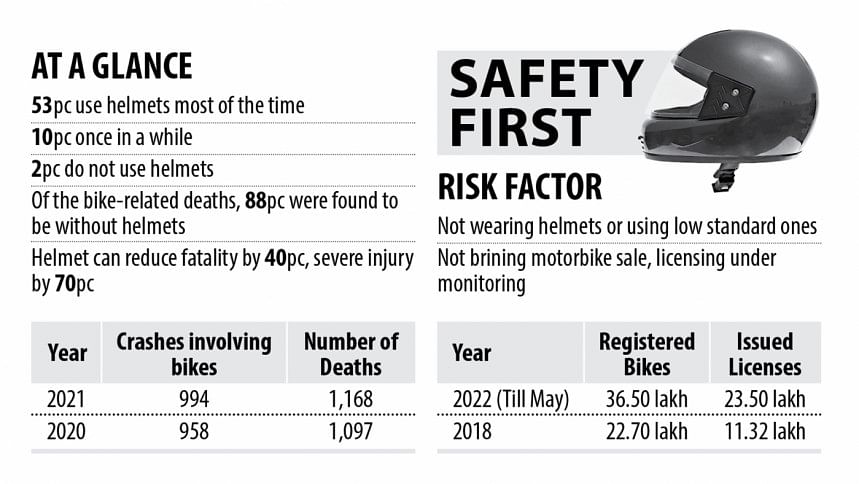 Even though the number of motorbikes and deaths in bike-related accidents is rising sharply, only 34 percent of bikers wear helmets while driving, according to a recent study conducted by the World Bank and Buet's Accident Research Institute.
Around 53 percent of bikers wear helmets most of the time, 10 percent wear them once in a while and two percent do not wear helmets. Of the bike-related deaths, 88 percent of bikers were found to be without helmets.
Wearing a helmet accurately reduces fatality by 40 percent and severe injury by 70 percent, the study added.
The study was conducted between July 2019 and July 2021 among 400 riders in Dhaka, Barishal and Dhaka-Mawa expressway and Dhaka-Gaibandha Road.
Kazi Md Shifun Newaz, assistant professor of ARI, presented the study at a training session in Cox's Bazar recently.
According to ARI's data, at least 1,168 people were killed in 994 bike accidents last year, whereas there were 1,097 deaths in 958 bike-related accidents in 2020.
According to Road Safety Foundation, at least 2,144 people were killed in 1,733 road accidents in the first four months. Bike-related accidents alone were responsible for 830 deaths, which is 38.71 percent of the total deaths. Researchers said not wearing helmets or using low-standard ones is the reason behind this rising number of deaths in motorbike accidents.
Addressing the training session, Taifur Rahman, programme manager of Global Road Safety Partnership, said there is nothing mentioned in the law about the standard of a helmet. Bangladesh Standards and Training Institution has no mechanism for it.
Khalid Reza Chowdhury, assistant director of the certification marks (CM) wing of BSTI, told this correspondent that the helmet was a mandatory product for certification. However, they were not able to check it for the absence of proper technical support.
"We have got the technical facilities six months back. We have started conducting mobile courts to remove low-standard helmets from the market," he said.
Khalid said they have also started working in the port, especially in the Chattogram port, so that no low standard helmet is released and imported. "Our officials will check the quality of the helmets that arrive at the ports. They can be sold in the market only after being certified by our officials," he added.
Meanwhile, experts said the government should bring the motorbike sale and licensing under monitoring.
Speaking at the training, Sahin Islam, director general of National Institute of Mass Communication, said with the number of motorbikes, the number of non-licensed bikers is also increasing.
Bangladesh Road Transport Authority, in an advertisement published in a newspaper on May 9, said the number of registered bikes and issued licenses are 36.50 lakh and 23.50 lakh respectively, implying that around 13 lakh bikers do not have licenses.
The number of registered motorbikes was 22.70 lakh and licensed riders 11.32 lakh in 2018. He said the issuance of fake licenses also needs to be checked properly.
Meanwhile, the ARI study also revealed that around 62 percent of bikers do not wear helmets when they are on a short trip and 19 percent do not wear one during hot weather.
Besides, 45 percent of bikers feel uncomfortable and 21 percent feel suffocated, the study added. Experts recommended initiating research to develop more comfortable helmets considering the socio-economic and environmental characteristics of the country.