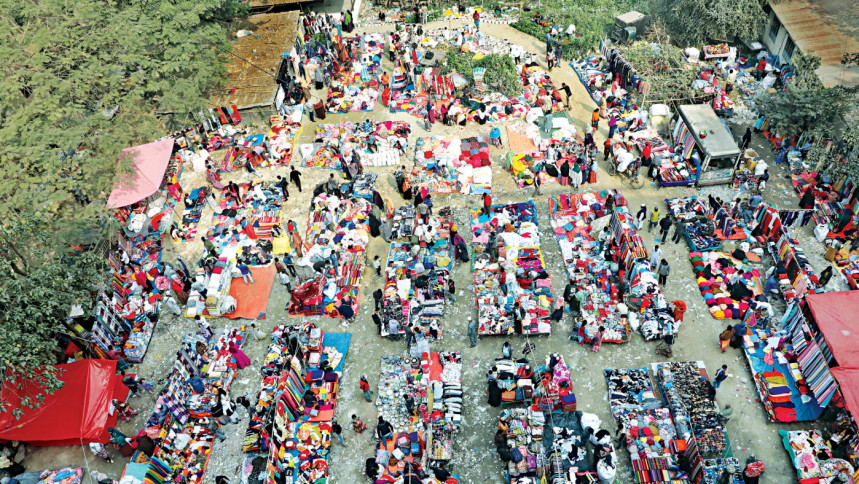 The word "haat" brings with it images of some rural setting. Banks of a river, a banyan tree, rows of traders selling their haul under it, that's what a haat is, right?
Surprisingly, there's a haat that sits right in the capital every Wednesday. At Meradia, beside Banasree, it brings together buyers and sellers with its fresh produce.
How old is the Meradia haat? Veteran vegetable seller Abdul Latif told this correspondent, "I've been sitting here since the Pakistan era. My father and grandfather used to come here too. I don't know the exact age, but it's been going on since the British period."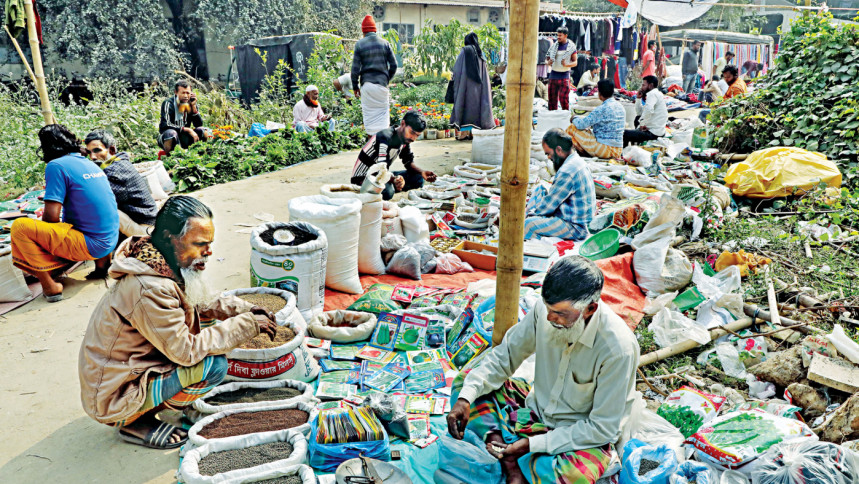 As this correspondent entered the haat, he was greeted with the hustle and bustle of a large crowd. Locals said it starts heating up from early dawn every Wednesday. On both sides of the road, seasonal vegetable, fresh fish and other colourful items could be seen.
Although parts of the haat have become informally allocated for different types of products, traders don't have any fixed space and sit wherever they can find an empty spot. Some sit down on pieces of ceremonial tent and tarpaulin, while some just get down to business on top of newspapers.
Lined up by the road were a lot of bamboo-made products. Inside the haat, there are clothes sellers, while the west side is taken up by vegetables of all kind. Both fresh and relatively cheap, they're ideal for the customers.
The north side of the haat is used as a fish market. Everything from koi, catfish, tiny fish, shrimp, mola, sunfish and more could be found there. It's worth mentioning that fish and vegetable traders sit there throughout the week.
Poultry shops are right beside the fish market. By its side are the cows and goats. One can buy them by kilogrammes, but whole cows and goats are sold as well.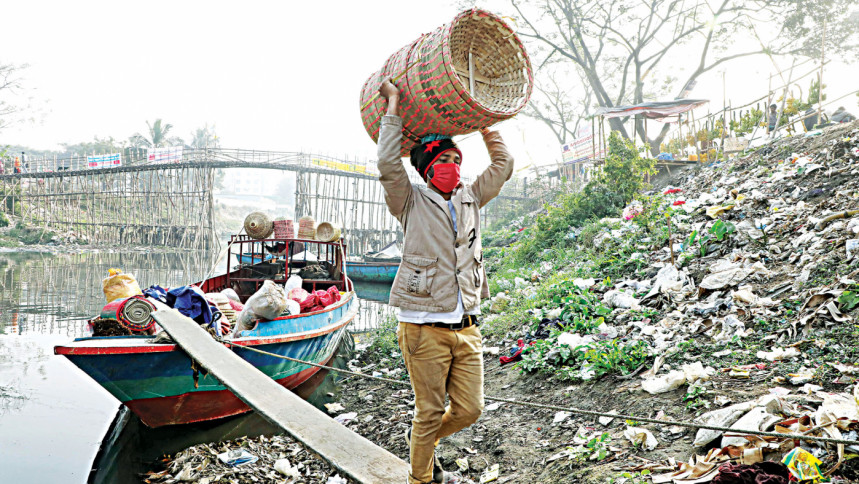 At a corner of the haat, Swapan Chandra Das sits with his Jilapi, Amritti and other sweet. "It's been 50 years," he said of his time there. "Much has changed, buyers' number has decreased, but we still sell a decent amount on these Wednesdays."
Md Sohrab has been shopping there since 1988. "The crowd has decreased compared to the past, but those who know about it can't buy from anywhere else but here."
Resident of Demra Abdur Rahman identified the freshness of the vegetables as the reason. "They aren't laced with medicine, which is why I prefer buying from here, even if the prices are a little high," he said.
The haat is known for its bamboo-made items and dried fish. Hazrat Ali, who sells bamboo products, said, "While sales aren't what they used to be, those who prefer bamboo products still come here to buy from us."
Nil Kamal has been going there with dried fish bought from Narsingdi for the last three decades. "We used to sell more even before the pandemic. Although that's not to say it's bad now by any means," he said.
Sellers said people go there from the neighbouring Rampura and Banasree, as well as Aftabnagar, Badda, Khilgaon, Satarkul and Nasirabad as well. while most of the traders come from Rampura, Banasree, Khilgaon, Fakirkhali, Demra, Badda, Beraid, Ichapur and Rupganj.
"This haat reminds me of my village. Even though the city has been taken over by concrete, this centenarian haat still stands. It's become a part of the local tradition," said Banasree resident Abdul Matin, while sipping on a green coconut after shopping.
Right beside the coconut stand flows the Narai River. Boats could be seen rowing through its blackened water carrying vegetables, much in the same manner as it's happened over the last hundred years or so.