Free Adilur, Elan at once
48 eminent citizens urge government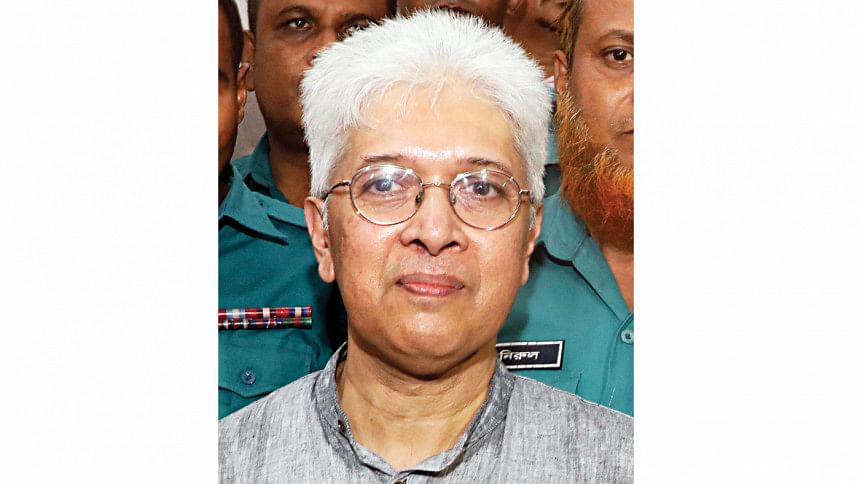 Forty-eight eminent citizens demanded the immediate release of Odhikar Secretary Adilur Rahman Khan and Director ASM Nasiruddin Elan, who were sentenced to two years in prison on Thursday.
In a joint statement issued yesterday, they expressed deep concerns over the verdict in a case filed in 2013.
The two key figures of the human rights organisation have been collecting data, investigating and publishing national and international reports on rights violations for years, it said.
Adilur and Elan were sentenced under the controversial section 57 of the ICT act for allegedly propagating "false and fabricated information", said the statement.
"We think that this incident will create immense obstacles in ensuring human rights and discourage other human rights activists from doing their jobs," said the statement.
"We demand the immediate release of Adilur Rahman Khan and ASM Nasiruddin Elan. We also demand full protection and an end to the harassment of human rights defenders."
A Dhaka court convicted them of spreading "a distorted report and doctored images" about the May 5-6, 2013, police action on a Hefajat-e-Islam rally in Motijheel.
The signatories to the statement include Hossain Zillur Rahman, Dr Hameeda Hossain, Ali Imam Majumder, Dr Iftekharuzzaman, Dr Debapriya Bhattacharya, Dr Badiul Alam Majumdar, Professor Anu Muhammad, Professor CR Abrar, Shahdeen Malik, Shahidul Alam, Dr Asif Nazrul, Sara Hossain, Syeda Rizwana Hasan, Sanjeeb Drong, Jyotirmoy Barua, and Dr Mohammad Tanzimuddin Khan.
In another statement, 39 Bangladeshi academicians and professionals working abroad condemned the prison sentence to Adilur and Elan.
The statement also expressed concerns over "continuous harassment" of rights activists, Nobel Laureate Dr Muhhamad Yunus, civil society members, and opposition party leaders and activists through the judiciary.
The statement said, "We demand that the government refrain from instrumentalising the judiciary to silence its critics and that the judiciary remain impartial, as the Constitution demands it to be."
The signatories to the statement include Sultan Mohammad Zakaria, former country specialist of Pakistan and Bangladesh at Amnesty International; Dr Hasan Mahmud, assistant professor, Northwestern University in Qatar; Dr Mohammad Al-Amin, postdoctoral fellow, University of Colorado, Denver, USA; Dr Jamal Uddin, lecturer at Cornell University, Ithaca, New York.
Meanwhile, the National Committee against Fascism and Imperialism demanded unconditional and immediate release of Adilur and Elan in an official statement.
The statement said there are sufficient reasons to believe that this verdict has been issued to create barriers to their activism and to intimidate other human rights organisations of this country.
The committee, in its statement, also demanded cancellation of the recently passed Cyber Security Act.