Escape from Khartoum horrors
136 Bangladeshis come home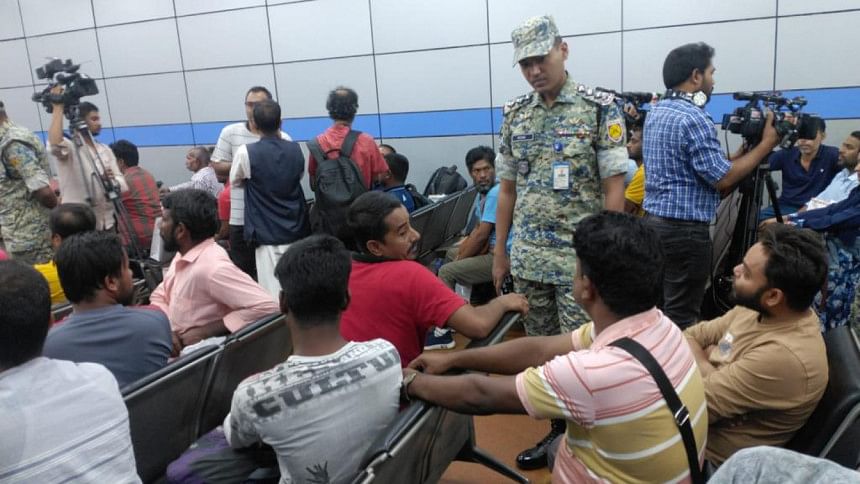 Ali Sheikh had to leave home with his family after being confined there for around two weeks amidst a civil war in the Sudanese capital Khartoum.
After staying at a hotel for a few days, they got a chance to escape the city on May 2, as a bus would transport them to Port Sudan.
From there, they and many other stranded Bangladeshis were taken to Jeddah and then brought back home yesterday on a Biman flight.
However, the journey was not as easy as it reads.
While boarding the bus that would take them to Port Sudan, another city in the Northeast African country, the to-be-evacuated Bangladeshis found themselves smack-dab in the middle of firing between the clashing rival factions of the Sudan military government.
The violence has been going on since April 15.
Ali and his family, who had been living in Khartoum for 18 years, had to run back into the hotel and could only come out again when the gunfight eased and another bus came to take them to Port Sudan.
"The bombings destroyed everything in Khartoum. There were airstrikes that hit buildings adjacent to my home. We could not sleep at night amid the sounds of heavy bombing and gunfire. I don't even know if my house is still standing," Ali, who worked at a private company in Khartoum, told The Daily Star at Hazrat Shahjalal International Airport yesterday.
They came back home on Sunday -- almost empty-handed, carrying only one small luggage, leaving most of their belongings back in Sudan.
With them, 132 other Bangladeshis were flown to Jeddah from Port Sudan in three Saudi Air Force planes.
They were supposed to be transported by ships through the Red Sea, but as those were unavailable, the Saudi authorities arranged several aircraft.
The 136 returnees -- making up the first batch of 700 stranded Bangladeshis to be repatriated from Port Sudan via Jeddah -- were provided with immediate cash and food support at HSIA by the government and the International Organisation for Migration.
According to the Bangladesh government, there were around 1,500 Bangladeshis living in Sudan.  All of them will be gradually evacuated and brought home, officials said.
Abdul Kashem, 48, was in the first batch.
Empty-handed, he left his home in Khartoum over two weeks ago and had been wearing the same set of clothes and was able to shower only twice since then.
"There were incidents of looting by men in uniform. They took away [almost all] my belongings," said Kashem, who had been living in Sudan for 12 years.
Meanwhile, Moni Rahman had to come back to Bangladesh leaving her husband behind at Port Sudan, as the family has three clothing shops in Khartoum that need to be run.
"He stayed back hoping the situation will improve. These shops are all we have."
She said though she had to spend a night under the open sky during the evacuation process, the Bangladeshi community in Khartoum had done everything they could to ease her journey back home.
Meanwhile, Shaki Akhter, a Bangladeshi mother of three, doubted whether she would make it out alive, with her electricity and water supply cut off amid heavy bombing near her building, and Kamal Hossain was a victim of robbing and mugging that took place amid the conflict.
Fortunately, they too were able to come back home on Sunday.
Welcoming the returnees at the HSIA, Asad Alam Siam, additional secretary of the foreign ministry, said those who are still in Sudan will hopefully be evacuated and repatriated home safely soon.
Different ministries, the IOM, Biman, and Bangladesh missions in Saudi Arabia and Sudan have been doing their best to this end, he added.
Speaking to journalists at the airport, Expatriates' Welfare Minister Imran Ahmad said his ministry, through the Wage Earners' Welfare Board, has readied $200,000 for the repatriation of the Bangladeshis from Sudan.
Besides, it will provide reintegration support, he said, urging the returnees to register themselves in this regard with the ministry to avail the facilities.
He added that the flight carrying the next batch of evacuees may reach Dhaka today or tomorrow.
Fathima Nusrath Ghazzali, officer-in-charge of IOM Bangladesh, said the UN migration agency will continue to provide its support for the safe return of the Bangladeshi nationals stranded in Sudan.
Siddiqur Rahman, acting managing director of Biman, said the national flag carrier will operate flights gradually to carry home all 1,500 Bangladeshis back home.