Strife-torn Sudan: Bangladeshis in dire food crisis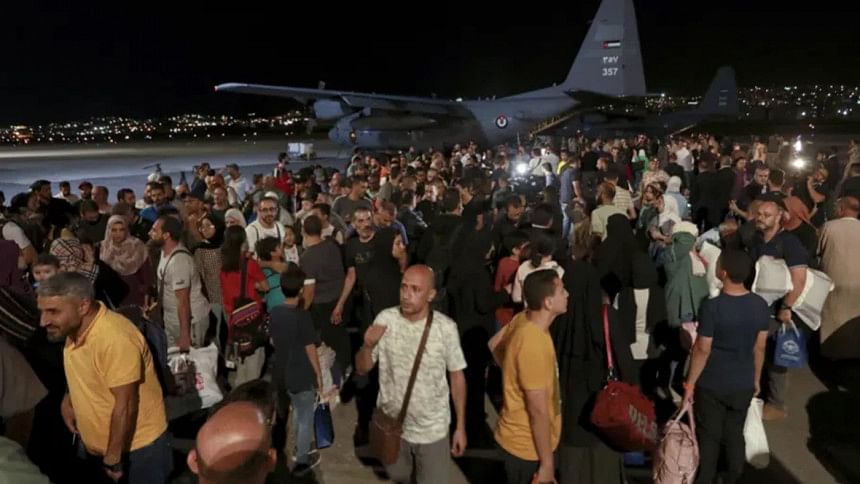 Bangladeshis living in Khartoum, the capital of a strife-torn Sudan, are facing a severe shortage of food and also do not have enough money to buy any, as the prices of essentials have shot up amid a supply crisis.
Speaking to The Daily Star from Khartoum over the phone, some Bangladeshis said they have been eating less to save their depleting stocks of food for a few more days.
Nazmul Ali, who has been in Khartoum for 10 months, said, "After fearing for life, we are now facing a food crisis. Can you imagine -- sometimes we need to walk more than a kilometre to collect a litre of drinking water.
He and four other Bangladeshis, including Rasel Mia, are currently living together in a house in Khartoum.
Rasel said they are reducing their food intakes every day and restricting their diet.
"We have been eating only [stocked] rice, lentils and potatoes since the conflict broke out earlier this month. We are now having two meals a day. Our food stock is running out."
Bangladeshis can hardly communicate with their relatives back home due to internet issues, he said, adding that they spoke to some Bangladesh embassay staffers in Sudan and learnt that they may start their journey back home today.
Md Saikat, who has been living in Sudan for 18 years, said, "I have lost everything to Sudanese looters. I had three cars and a motorcycle, and they also took away about $7,000. They snatched my clothes also... ."
Saikat, who stays in a house with two cousins in the city, said they are waiting to return to Bangladesh.
Since April 15, hundreds have been killed and tens of thousands have fled in a power struggle between the army and the Rapid Support Forces (RSF), a rival paramilitary force, in Sudan.
Sultan Danesh Ali, president of the Bangladesh Community, Sudan, said most of the Bangladeshis living in Khartoum have sent money home before Eid. "That's why they don't have enough in hand to buy food."
The prices of food items have shot up, he said, adding that one kilogram of rice is now Tk 420 -- up from about Tk 100 before the conflict.
There is a severe shortage of food in the few shops that are open now, which is why local criminals have been raiding houses to snatch food.
Meanwhile, the Bangladesh government has taken measures to bring back Bangladeshis from Sudan via Jeddah in Saudi Arabia, a foreign ministry press release said yesterday.
The Bangladeshi nationals will be taken to Port Sudan from Khartoum. From there, they will be moved to Jeddah. Later, they will be flown to Bangladesh on several flights of Biman Bangladesh Airlines.
The Bangladesh embassy in Khartoum has already arranged nine buses to take the Bangladeshis to Port Sudan from Khartoum and adjacent cities. A team from Bangladesh's Consulate General in Jeddah will reach there to assist them.
All Bangladeshis stranded in Sudan will be taken to Port Sudan by May 2 and reach Jeddah in a day or two.
Two Bangladeshi schools in Jeddah are providing food, water, medicines and temporary accommodation for the Bangladeshi nationals being brought from Sudan.
The Bangladeshis, however, said surviving the entire journey back home would be a challenge as Port Sudan is about 1,600 kilometres away from Khartoum and the road between the two locations is risky.