Doves and Pigeons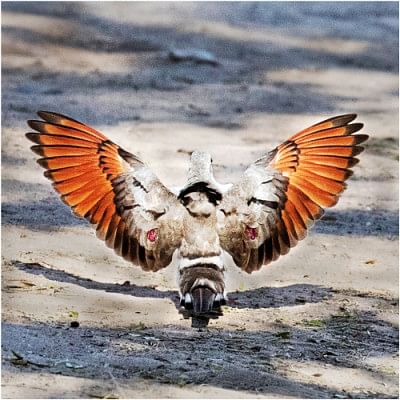 My most memorable encounter with a dove took place in Kalenga forest in Habiganj. After a long unproductive day I was about to exit the forest. Ahead on the trail was a small bridge. From nowhere a green Emerald Dove descended on the bridge and puttered around, perhaps ten feet from me. Here was a gorgeous bird, normally elusive, so close to my camera. In a minute or two it turned a dismal day into a joyful one.
Doves and pigeons of over 300 different species are spread around the globe. They belong to the bird family Columbidae. They are usually stocky, walk with a characteristic gait while rocking their head, and build flimsy nests from twigs. Eating fruits, seeds and plants, flocks often descend on trees such as banyan when they bear fruit.
Humans have a long history with this bird family. Along with religious significance, the white dove is also the international symbol of peace. Doves and pigeons are generally well-loved. Many species, such as Rock Pigeons, have adapted well to humans – almost too well when they nest in your home and become pests - but others such as Emerald Doves are shy and remain in the forest.
I grew up in Sylhet where Rock Pigeons (called Jalali Kobutor locally) were everywhere. Legend says they descended from a pair brought that arrived with the holy saint Hazrat Shahjalal. They nested in the eaves of the numerous bungalows in town and were never harmed in deference to the holy man. The Spotted Dove (Tila Ghughu) was also found in homes with trees, its sweet song reverberating through the air.
Bangladesh has 14 species of doves and pigeons from common to rare. I have seen perhaps ten of these, the Orange-breasted Green Pigeon being the most beautiful. Some species such as Mountain Imperial Pigeon are very hard to find. Several green pigeons - Thick-Billed, Wedge-tailed, Yellow-footed, Orange-breasted Green Pigeons - look quite similar. One has to look at the feet, the tail, the breast or the beak to distinguish between these Horials.
Outside Bangladesh, I saw a dizzying variety of doves and pigeons in Australia. They could be colourful (Fruit Dove), elegant (Imperial Pigeon), cute (Crested Pigeon), intriguing (Top-knot Pigeon), mundane (Peaceful Dove) or familiar (Emerald Dove.) Some came quite close, but the Fruit Doves were high up on trees and uncooperative.
In Madagasar I found the Namaqua Dove with spectacular wings. I watched it feed on grass seeds in a semi-arid patch. It was smaller and friendlier than other doves I have encountered. The island also had the only blue pigeon I have seen.
The Passenger Pigeon of North America is the most thoroughly documented extinct bird in the world. During the 1800s there were millions if not billions of them. A flock was so large it could darken the sky. Farmers hated them because they decimated fields they landed on. Indiscriminate killing led to their extinction. The last Passenger Pigeon, Martha, died in the Cincinnati Zoo in 1914. Its body has been preserved and can be seen in the Smithsonian.
.
facebook.com/ikabirphotographs or follow "ihtishamkabir" on Instagram.