Demand for pay hike rings louder
RMG workers take to streets again
RMG workers blocked Mirpur and its surrounding areas for the second consecutive day yesterday, demanding a hike in wages.
They took to the streets around 8:00am.
Vehicular movement was completely suspended from 10:00am at Mirpur-10 intersection, Kazipara, Shewrapara, Mirpur-11, 14 and 6, creating gridlock throughout the city.
Witnesses said workers didn't even allow motorbikes to pass the areas. Many were seen going to their offices on foot.
Md Jewel, a private job holder, said he started for work from Mirpur-10 intersection around 8:45am but did not find any bus. He then walked for a kilometre and finally got a rickshaw to reach his destination.
The workers left the road around 1:30pm after police charged baton and lobbed teargas shells, said witnesses.
Ariful Islam, additional deputy commissioner of Mirpur division of DMP, said the workers vandalised shops, vehicles and establishments during the protest.
Police managed to bring the situation under control around 3:30pm as the workers withdrew, he said.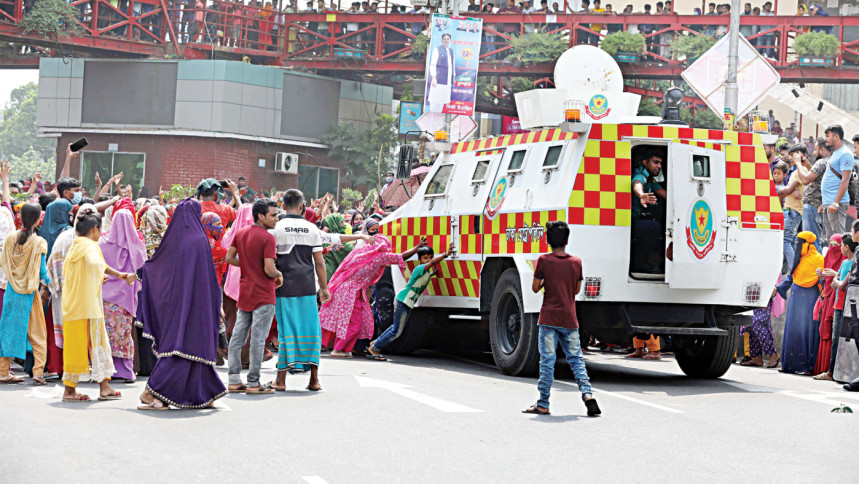 "We have detained eight workers for their involvement in the vandalism," he added.
Hafizur Rahman, officer-in-charge of Mirpur Police Station, said, "The situation's under control now and additional police force have been deployed in the area to avert any untoward situation."
The clash between the police and garment workers of several factories started the day before yesterday after workers blocked different roads in Mirpur, demanding a pay hike as the prices of daily essentials have shot up.
"Living like this is nearly impossible, so we took to the streets to demand a wage increase," said Koli Begum, a garment worker, who was part of the demonstration at Mirpur-10 yesterday.
Koli, a senior swing machine operator, gets a monthly salary of Tk 13,000 including overtime. Her husband, also a garment worker, gets Tk 15,000.
"The salary was quite enough just a couple of years back. But now, with two kids, it's getting difficult to survive," added Koli.
RMG workers are demanding a minimum monthly salary of Tk 20,000 for a swing machine operator and Tk 15,000 for helpers.
Contacted, Shahidullah Azim, senior vice president of Bangladesh Garment Manufacturers and Exporters Association, said he is aware about the protest and demands, but it will not be possible to increase wages, due to the ongoing global crisis.
                                      He alleged that the incident was instigated by an influential quarter.