Cluster Admission Tests: 22 univs lag behind, have vacant seats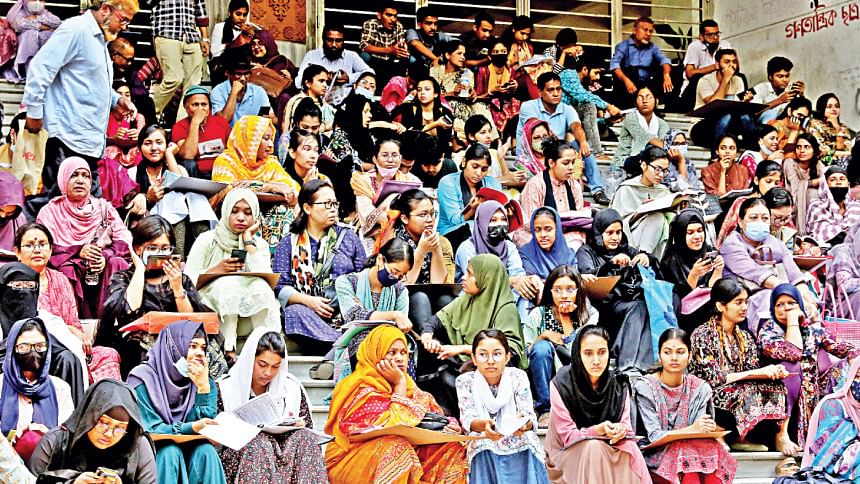 Twenty-two public universities, who held cluster admission tests for the 2021-22 academic year, could not start classes on time due to lengthy migration of freshers.
This has left them lagging behind 10 other public universities who didn't join the new admission system.
The 22 universities opened the admission process in November last year after conducting integrated entry tests in July-August. As they could not fill all vacant seats within the stipulated time, at least 10 of them had to extend the admission deadlines up to February this year.
Islamic University failed to fill all seats even after publishing 13 merit lists. It had to close the admission process keeping some 50 seats vacant.
Pabna University of Science and Technology filled their seats after publishing about 16 merit lists between October and February 21.
After the closure of the admission process, nearly 500 seats remained vacant in those 22 universities, according to university sources.
Teachers blamed absence of a student migration deadline for this situation.
When the admission to the 22 universities was underway, students of the 10 others had already completed a semester.
Dhaka University started first year honours classes in September last year, and Rajshahi University in November. Students of the DU's journalism department completed their first semester before the 22 universities could complete their admission process.
Prof Lutfor Rahman, general secretary of Jagannath University Teachers' Association, said, "When a university has to publish so many merit lists, it is only natural that the institution won't get good students."
He said the JnU had been struggling to fill its seats since it joined the cluster admission system in the 2020-21 session.
"If things go like this for the next few years, the quality of education would fall gradually," the professor told The Daily Star.
According to JnU sources, an academic council meeting decided to pull out of the cluster exams. Teachers of Islamic University (IU) and Comilla University also demanded the same, citing the same problems.
Prof Tapan Kumar Jodder, general secretary of IU teachers' association, said they held meetings with teachers and sent letters to the vice-chancellor, requesting him to abandon the cluster test system.
If the government can ensure bringing all public universities under the cluster test system, it would be helpful for students, he observed.
"Otherwise, we have to conduct entry tests on our own to ensure the quality of education."
JnU Vice Chancellor Prof Md Imdadul Hoque, joint convener of the cluster admission tests committee, said they were planning to speed up the admission process.
"We have already held meetings and drawn up a roadmap for holding admission tests. We are planning to complete the tests by next June and start classes by July."
Prof Muhammed Alamgir, member of the University Grants Commission (UGC), said if a two-month deadline can be set for completing the admission process after conducting tests, the universities might be able to resolve the problems permanently.
"We need to collaborate with and encourage those universities who have not yet adopted the cluster exam system."
He said there is no scope for any university to pull out of this system.
Meanwhile, the online application process for cluster admission tests for the 2022-23 academic session completed on April 30.
The entry test for B (Arts) unit will be held on May 30, C unit (Commerce) on May 27 and A unit (Science) will be held on June 3.
Over 3 lakh students have applied for taking tests.