Senior cop in Ramna area: Is beating his only duty?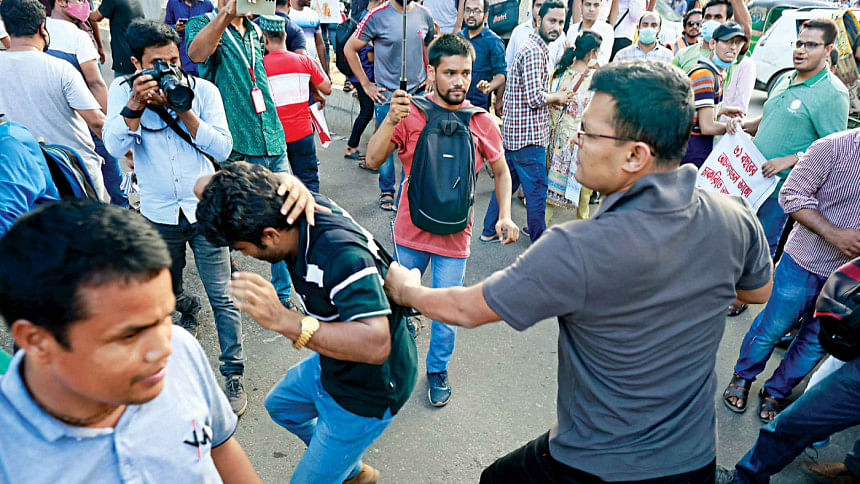 One senior cop in Dhaka has reportedly developed a habit of turning a peaceful gathering into a bloodied one, as witnessed in several events over a few months.
Apparently, he requires no need or excuse to get into a beating frenzy. He slaps fellow police officers, assaults students on the street, but interestingly enough, leaves Chhatra League men off his list of victims.
Harun-or-Rashid, an additional deputy commissioner (ADC) of Dhaka Metropolitan Police (DMP), earned this dubious credential soon after his appointment in Ramna area.
"No attack was carried out on protestors while I was on duty. Whenever an unruly situation arises, efforts are made to deter it," Harun told this newspaper recently, before he beat up protestors yet again yesterday at the capital's Shahbagh.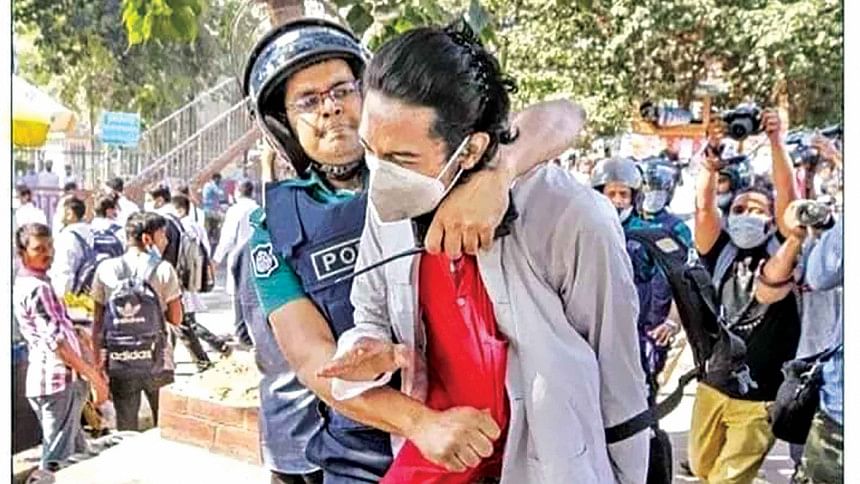 However, video footage and photos of different media organisations as well as witnesses say otherwise.
On August 7, at least 12 demonstrators were injured in the capital's Shahbagh when a police team, led by Harun, pounced on protestors during a peaceful protest over fuel price hike.
Among the injured was Sami Abdullah, a Dhaka University student, who had to get 14 stitches on his head.
A video of the incident showed protestors shouting slogans at Shahbagh intersection. All of a sudden, Harun instructed his colleagues to beat the demonstrators.
A cop was seen helping Harun put on a jacket and helmet. Within minutes, the ADC and his colleagues started beating the protestors with batons, leaving Sami and 11 others injured.
"Had police not used their batons on our peaceful demonstrators that day, we would have marched towards Dhaka University campus with a procession. The situation would not have been tense," said Saikat Arif, general secretary of Bangladesh Chhatra Federation, organiser of the protest.
This was not the only case of Harun showing high-handedness. The police official, a former Chhatra League leader of DU, has beaten up protestors from opposition parties and student fronts on several occasions.
On March 4, a police team, led by Harun, used batons to break up a rally, organised by Bangladesh Gono Odhikar Parishad in front of Dhaka Club to protest the price hike of essentials.
"ADC Harun-or-Rashid led police teams to foil several peaceful protests of Chhatra Odhikar Parishad by carrying out attacks on demonstrators. He himself beat and strangled our leaders," Nurul Haque Nur, member secretary of Gono Odhikar Parishad, told The Daily Star.
In April, a video clip went viral on social media, showing Harun slapping a cop during the violence in New Market area, as the latter ran out of rubber bullets for his gun. The incident drew huge criticism.
Chhatra Dal leaders also alleged that cops led by the ADC beat up their activists during a peaceful rally in front of Jatiya Press Club on February 28.
Harun and his fellow force members used batons on a torch procession, brought out jointly by Progressive Student Alliance and some other leftist organisations in Shahbagh on February 26 last year, demanding justice for the death of writer Mushtaq Ahmed.
The authorities are yet to take any action against Harun for all his questionable actions.
Police, however, took prompt action against then Barguna additional superintendent of police (ASP) Mohorom Ali over using batons on Chhatra League activists on August 15.
A team of Barguna police, led by Mohorom, beat up many of the activists in the district, claiming that a group of its leaders and activists broke the wind-shield of a police van by hurling brickbats. Mohorom was withdrawn within a day, before being transferred to Chattogram.
"Taking prompt action against an ASP over using batons on Chhatra League and letting ADC Harun off the hook proves that authorities have double standards when dealing with police officials," said Salman Siddiqui, office secretary of Samajtantrik Chhatra Front.
When police do all this with such impunity, it only encourages them to be more aggressive, Salman told this newspaper.
Some DU students and leaders of several student organisations are among those who have been beaten up by police during demonstrations several times.
They demanded immediate withdrawal of ADC Harun, alleging that police officials have always taken a stance against movements with rational demands.
They said many police officials had been in charge of DMP's Ramna zone previously, but they never committed such acts like Harun did.
Asked about the matter, former inspector general of police Nurul Huda said police cannot beat up ordinary people unless life and property are at risk.
"Force can be used only in self-defence. If there is disruption in law and order or if there is a possibility of such a situation happening, then physical force can be used. It depends on a particular situation," he told The Daily Star.
"People have the right to assemble and express their opinions. It should be determined first whether people are disturbing peace and order," the former IGP added.
Supreme Court lawyer ZI Khan Panna said, "Protestors in Shahbagh did not resort to vandalism and hit police. Despite that, police used batons on peaceful demonstrators."
"The state machinery is responsible for developing this habit. If anything happens in its favour, the state machinery calls it fair, otherwise it terms it as injustice," he said.
Interpretations of laws should always be the same for everyone, but authorities change them to their own liking, he added.
When asked, Harun told The Daily Star, "DMP is a large police unit. Here, I do not take any decision alone. I do what I have to do as a member of a law enforcement force to minimise public sufferings, after consultation with higher authorities."
He claimed that a vested quarter brought some allegations against him.