Climate-related disasters
9.4m displaced in seven years
Over a thousand lives lost, says study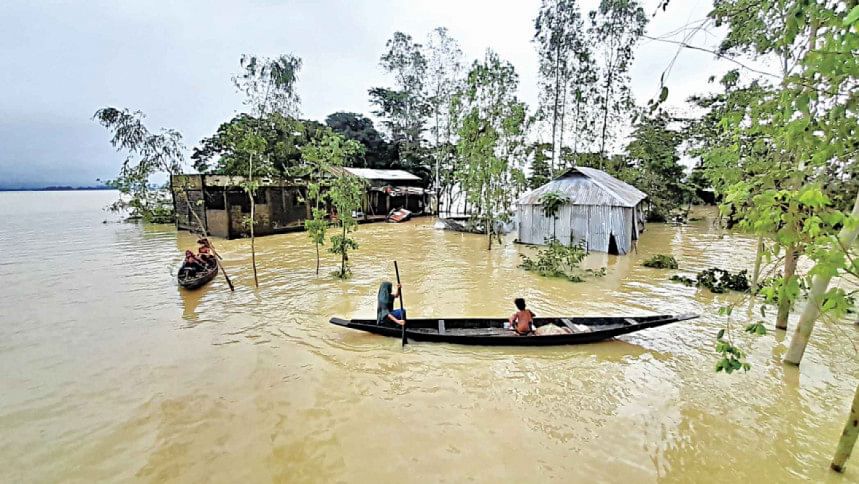 At least 1,053 people were killed and 9.4 million more displaced internally in different climate-related disasters in 58 districts in seven years from 2014, says a recent study.
During the period, the country suffered economic losses of $4,120 million due to the disasters, including monsoon flood, flash flood, river erosion, cyclone, storm surge and landslide, found the study.
The country received only $104 million in humanitarian aid in those seven years following 15 major disasters, the study report said, adding that 42 million people were affected.
Analysing the data of all major natural disasters from 2014 to 2020, Start Fund Bangladesh (SFB), a civil society-managed network of 45 NGOs working in Bangladesh since 2017, conducted the study.
The SFB is going to unveil the report titled "Multivariate Analysis of Climatic Disasters, Financial Flow Analysis, and Analysis of Household Economic Status in Flood-Prone Districts" at a city hotel today.
The disaster management ministry assisted SFB in carrying out the study, which also projected how many people may be affected by different disasters and also prepared a map that shows the most disaster-prone areas.
"People living in disaster-prone areas are exposed to different natural disasters in various ways. Our study will help the government officials and aid workers have a clear idea about how many people could be impacted following a certain disaster and they would be able to take measures accordingly," said Shofiul Alam, programme coordinator of Start Network.
Analysing the data of disasters that took place in the seven years, the study estimates that 12.10 million people belonging to 2.71 million households could potentially be affected each year by different climate-induced disasters, including monsoon flood, flash flood, river erosion, cyclone, storm surge and landslide,
The study has also taken into consideration other hazards such as nor'wester, cold wave, and hailstorm.
It also assesses that at least 18.33 million people may get exposed to climate-related hazards in 64 districts a year from 2021 to 2025. Around 66 percent of them would be affected by natural disasters .
It anticipates that the minimum economic loss would be $337.94 million in the same period.
According to the study, four northern districts -- Kurigram, Gaibandha, Sirajganj and Jamalpur -- are very prone to flood and river erosion, while four southern districts -- Satkhira, Khulna, Barguna and Patuakhali -- are at high risk of being hit by cyclone and storm surge. Besides, 27 other districts are exposed to disasters.
SFB has collected data for the study from multiple sources, including Bangladesh Agricultural Research Council, Multi Hazard Risk and Vulnerability Assessment Modeling and Mapping, National Disaster Response Coordination Centre, Centre for Environmental and Geographic Information Services, Forecast-based Warning, Analysis and Response Network, Needs Assessment Working Group, and Network for Information, Response and Preparedness Activities on Disaster.