700 acres submerged
Farmland remains waterlogged for years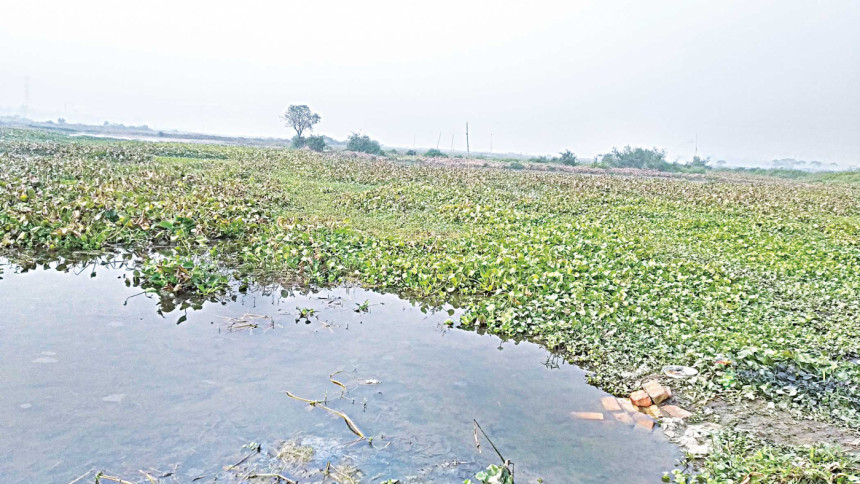 Once Nurul Haque used to cultivate different types of crops in his land all around the year.
However, in recent years, the 65-year-old farmer at Dhamrai's Srirampur has been unable to cultivate one single crop in his fields. The reason lies in waterlogging, and such is the plight of hundreds of farmers from 10 adjacent areas.
Farmers who own lands in Kullibeel, a large farmland of about 700 acres, had to leave their land without any farming for years because of this very problem.
Nurul stated other reasons behind not being able to farm the lands. Some farmers have sold their land's topsoil to brickfield owners, and only one drainage canal is filled with silt, making the whole place unsuitable for farming.
Rejaul Karim, chairman of Sutipara Union Parishad, told this correspondent that in 2019, a drain was cut along the canal, which was later filled with silt again. This claim has been confirmed by Dhamrai Upazila Agriculture Officer Md Ariful Hasan.
"I informed the matter to the UNO and other officers concerned. They have recently visited the area and assured the farmers that they will take an initiative to solve the problem," said the UP chairman.
Dhamrai UNO Hossain Mohammad Hai Jocki said, "We have recently visited the area. There was also a bridge over the canal, which got damaged last year and due to that blockage, the drainage system became dysfunctional." The UNO said it is possible to solve the crisis by re-excavating the canal. "We are working on the issue."