Cumilla city polls: Dramatic win for Rifat
A 'phone call' changed the result, claims Sakku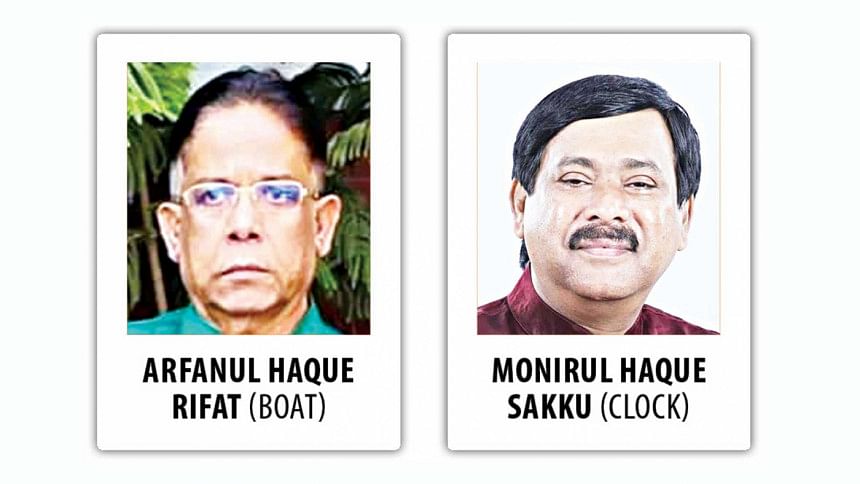 It was at the Shilpakala Academy auditorium, Cumilla, around 8:20pm.
The returning officer just completed announcing the results of 72 polling stations, showing Awami League's mayoral candidate Arfanul Haque Rifat bagged 33,793 votes while his main rival Monirul Haque Sakku got 32,322.
Sakku, a former BNP leader running for Cumilla city mayor without any party backing, right at the time entered the auditorium along with some of his followers.
The returning officer, however, continued announcing the results.
About half an hour later, when he said they received results of 101 centres and was about to declare the cumulative figure, a group of AL activists came to the venue.
They were chanting "boat" and clapping in front of Sakku, who was seated in a chair. Just in five minutes, another group of ruling party supporters arrived chanting slogans.
A few supporters of the AL candidate attempted to attack Sakku but his followers formed a human shield to save him.
The returning officer tried to maintain order by asking all to refrain from chanting slogans and keep calm. But it did not work.
Around 9:15pm, police baton-charged the crowd and also tried to drive out Sakku from the auditorium but he refused to leave.
The police action continued for 10 minutes. When the situation came under control, the returning officer said they have all the results in hand. He then declared Rifat winner by 343 votes.
The final tally from all 105 centres showed Rifat secured 50,310 votes while Sakku 49,967.
"The election result has been changed with just a phone call," Sakku, the immediate-past mayor, told the media after the results were announced.
He said a phone call came when the results of 101 polling centres had been announced. "They [EC officials] then stopped declaring results for 45 minutes. I was ahead by 980 votes then. They took it by engineering."
He termed the Election Commission spineless, and said he would decide on his next course of action after talking to lawyers.
In his instant reaction, Rifat said he would release a "white paper" on corruption that took place in the city corporation in the past.
Regarding the election results, local Awami League MP Bahauddin Bahar, who is said to be backing Rifat, said, "We have won. It doesn't matter who accepts the result or who does not. Many councillor candidates will not accept the result."
He added, "Just watched a drama."  
The third Cumilla City Corporation election was otherwise exceptionally quiet, calm and mostly uneventful. There has been no report of violence during the polling yesterday.
In recent years, almost all local government polls were tainted by clashes, allegations of ballot-box stuffing, use of muscle power, and other forms of election anomalies.
The turnout yesterday was 58.74 percent, Returning Officer Shahedunnabi Chowdhury said last night.
The voting process was, however, slow. Some voters alleged mismanagement by election officials in troubleshooting EVMs.
There was rain interruption on an otherwise hot and humid day. It started to rain at 9:00am, just an hour after the voting began. When there was no rain, most polling stations saw voters queuing up.
Around 11:00am at Cumilla Modern School, one of these correspondents found hundreds of women waiting to cast their votes.
Some, mostly elderly people, became sick standing in line for hours. Some went home without voting.
Habiba Sulhana, of Thakurpara, said, "I have been standing here for an hour. And now, I am returning home. What kind of preparation has the government made that I couldn't cast my vote?"
People were seen splashing water on the heads of the elderly people to help them cool down.
Presiding Officer Mofizul Haque said there were 5,000 voters at the school. "It was raining since morning, so there was no pressure of voters. But after the rain stopped, a huge number of people started to come in."
These correspondents visited 25 centres and found that the pace picked up in the afternoon.
Rifat expressed satisfaction over the voting atmosphere.
Sakku alleged that EVMs slowed down the voting rate and in some centres the machines malfunctioned.
Lawmaker Bahauddin alleged that in some places people could not cast vote as they did not take voter slips with them.
Talking to voters it was found that elderly people had issues with fingerprints while using the EVMs, which were used in all voting centres.
Glitches and people's inexperience in using the machine caused trouble polling at many centres, making voter lines outside grow longer.
One key feature of the polls was that female voters noticeably made up a significant portion of the crowds.
There were positive reactions from voters as well.
"I cast my vote without any hassle. The queue was long but the process was smooth," Bithi Begum, who cast her vote in Cumilla Collegiate School, said.
This time all the polling centres were under surveillance of CCTV cameras installed by the Election Commission.
Visiting polling centres, it was found that there were gatherings outside the polling stations, mostly by the supporters and activists of the ruling party wearing badges of "boat", the electoral symbol of AL.
Even the ruling party men were seen inside some polling centres.
The election has been much-talked in the political sphere as this is the first major task of the newly formed Election Commission that began its journey in February.
The last election to Cumilla City Corporation, formed in 2011, was held in March 2017. It saw Sakku winning a second term with the party support. But this time he ran as an independent candidate as his party BNP expelled him and also boycotted the polls.
Five candidates, including Rashedul Islam from Islami Andolon Bangladesh and independents Kamrul Ahsan Babul and Nizamuddin Kaiser, vied for mayor while 106 for councillor posts and 36 for reserved posts.
Chief Election Commissioner Kazi Habibul Awal yesterday said the election was peaceful and an estimated 60 percent of votes were casted.
Talking to reporters after the election at the EC office in the capital, he also said on some occasions some elderly people faced some problems while casting votes using EVM and general appraisal was that voting through EVM was good.
He said that heavy rain caused some disruption and slowed down voting.