'Russia, Bangladesh working out modalities to ensure uninterrupted transactions, trade'
Russian Ambassador to Bangladesh says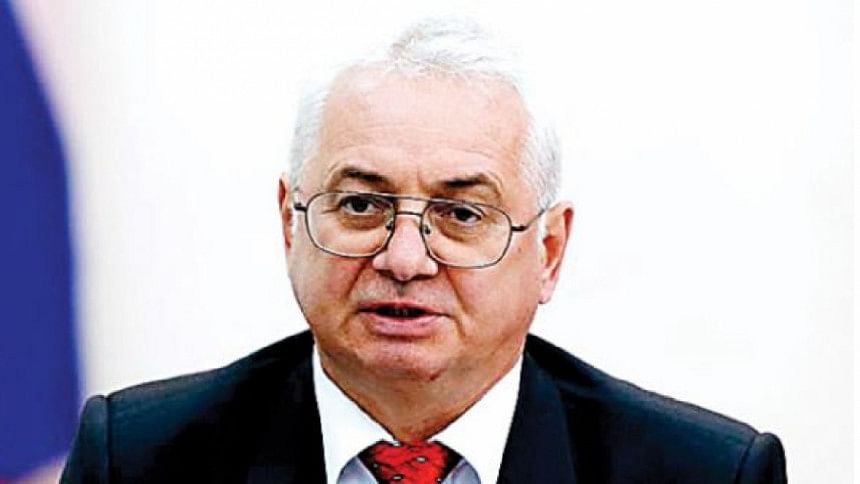 Russia and Bangladesh are working out modalities to keep transactions and trade between the two countries uninterrupted, said Russian Ambassador to Bangladesh Alexander Mantytskiy today.
At a press conference at Russian Embassy, he said the two countries are considering different options, including swap of national currencies and usage of third country's banks.
The development comes after the US imposed sanctions including on SWIFT system following the Russia-Ukraine war on February 24.
The press conference titled "One month of the Russia's special military operation in Ukraine: Causes and results. The world of post-truth" covered five key areas - the background of Russia-Ukraine conflict, Russia's diplomatic efforts aimed at avoiding the conflict, results of Russia's special military operation, role of the West in the militarisation and Nazification of Ukraine, economic consequences of the conflict and Russia-Bangladesh relations in a new reality.
Responding to a question on Bangladesh's voting at the UNGA on March 2, the Russian envoy said, they highly appreciate Bangladesh's "responsible and balanced" attitude towards the resolution.
"We express our gratitude to the Bangladeshi side for its neutral position taken despite the enormous external pressure during the said voting," he said.
The ambassador said Bangladesh Foreign Minister AK Abdul Momen very specifically defined the motives behind Bangladesh's abstention. "So, I have nothing more to add."
Alexander Mantytskiy said the "special operation" by Russia on Ukraine came as Russia faces security threats with the increasing expansion of NATO in Europe.
Asked on hundreds of civilian casualties in Ukraine in the Russian attacks, he claimed that Ukraine is using civilians as human shield.