Promote community clinics in developing world
PM tells developing partners at UN HQ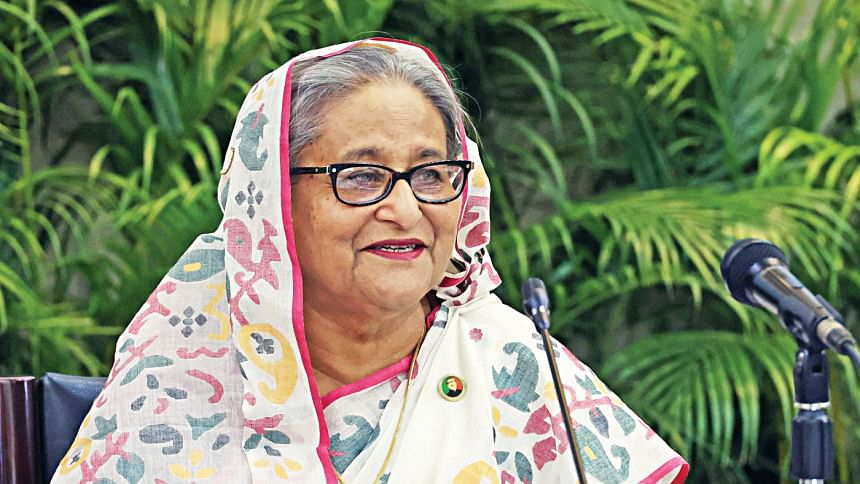 Prime Minister Sheikh Hasina on Tuesday called upon development partners, including multilateral financing institutions, to extend their support for community-centric health services in the developing world.
"On our part, Bangladesh stands ready to share our insights and expertise with those interested," she said.
The prime minister said this while speaking at the plenary session of the high-level side-Event on "Sheikh Hasina Initiative of Community Clinics: Innovative Approach to Achieving Universal Health Coverage Inclusive of Mental Health and Disabilities" held at UN Headquarters in New York.
The event was organised by Antigua and Barbuda, Bangladesh, Bhutan, China, and Malaysia.
She mentioned that community-based primary health care is key to achieving Universal Health Coverage.
"As an emerging voice of the Global South, Bangladesh would champion this issue as a possible avenue for meaningful international partnership," she said.
Hasina also shared her vision with five priorities for the community clinics.
They are:
To make community clinics serve as gatekeepers at the grassroots to prevent huge out-of-pocket payments for health services;
To enable community clinics to provide enhanced digital health and diagnostic services, especially for NCDs;To further develop the capacity of community clinics to address growing climate-induced health crises, like dengue outbreaks;
To improve screening and treatment facilities for mental health and neurological disorders so as to provide accessible services to those affected and their families; and,
To use community clinics as the primary building block for a robust data-driven health and nutrition programme.
Hasina said that there are now nearly 14,500 community clinics operating across the country. They are designed to act as a one-stop centre for health, family planning, and nutrition-related services.
The community clinics are playing a critical role in reducing infant, child, and maternal mortality, she said.
She mentioned that around 3,000 community clinics offer facilities for skilled birth attendance. On average, there are 9.5 to 10 million visits to community clinics every month. Among the service seekers, almost 80 percent are women and children.
The premier said that community clinics have become the local hub for universal immunisation. They played a crucial role in securing Covid-19 vaccination coverage.
She mentioned that the community clinics act as a referral point for emergencies and complicated cases to higher medical facilities.
The service providers are equipped with the internet and digital devices to record health data. They also engage in communication on social and behaviour change for health and disability-related issues, she added.
"In 2018, our parliament passed the Community Clinic Health Support Trust Act to further streamline operations and funding modalities," said Hasina.