PM calls for enhancing economic cooperation with Vietnam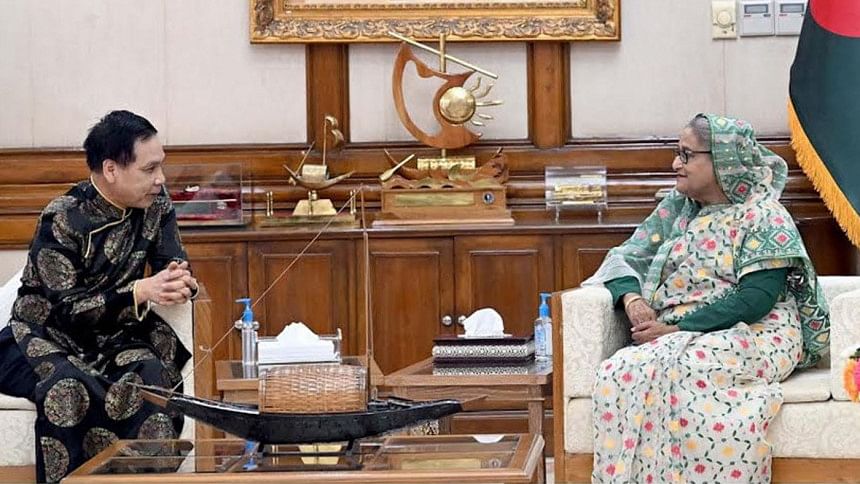 Prime Minister Sheikh Hasina today emphasised enhancing economic cooperation between Bangladesh and Vietnam for the mutual benefit of the two countries.
She made the observation while outgoing Ambassador of Vietnam Pham Viet Chien called on her at Gono Bhaban, PM's press secretary Ihsanul Karim told reporters.
During the meeting, they expressed satisfaction over the growing bilateral relations between the two countries, the press secretary said.
Hasina mentioned that Bangladesh and Vietnam have many common issues like victorious struggle for the liberation of their countries.
The people of the country admired the Vietnamese struggle for independence, the PM said adding, during their Liberation War against Pakistani military junta, people of Bangladesh used to chant slogans 'Bangla will be Vietnam'.
Talking about the agricultural sector, she said Bangladesh is a densely populated country and it has a huge population, so researchers have been engaged for boosting agro production.
The PM put emphasis on improving connectivity with South Asian countries.
She thanked the Vietnamese envoy for completing his tenure successfully and also congratulated him on the success of his country in the socioeconomic arena.
Vietnamese Ambassador Pham Viet Chien termed himself as the friend of Bangladesh.
He said apart from the Vietnam government the Vietnam Communist Party has relation with Bangladesh Awami League.
On behalf of Vietnamese leaders, the ambassador invited the prime minister to visit Vietnam to mark the 50 years of the diplomatic relation of the two countries.
He said that the trade between Bangladesh and Vietnam was $1.5 billion while Bangladesh's export to Vietnam increased by 30 percent.
PMO secretary Mohammad Salahuddin was present during the meeting.