Using expats to smuggle gold
At least 40kg gold seized, 7 held at Dhaka airport in one month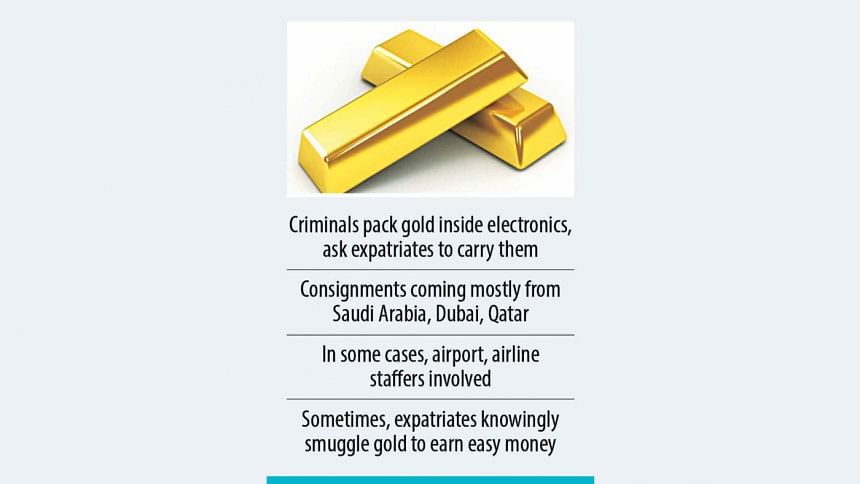 In the name of sending gifts to dear ones, several syndicates have been using expatriates to smuggle gold into Bangladesh.
The criminals pack gold bars inside electronics like charger fans, cameras or phones, and then ask the expatriates to carry them to Bangladesh, telling them that the packages are for relatives.
These consignments are coming to the country mostly from Saudi Arabia, Dubai and Qatar.
Expatriates mostly take the packages out of Hazrat Shahjalal International Airport (HSIA) by themselves, but in a couple of cases, airport and airline staffers were found to be involved.
Analysing data on gold smuggling of the last month, investigators claimed to have come up with the findings.
In the last month, around seven people were arrested and at least 40 kg of gold were seized from HSIA, according to officials of airport customs.
On Wednesday night, officials of Dhaka Custom House arrested an expatriate -- Md Shafiqul Islam -- with 20 gold bars weighing over 2.5 kg and worth around Tk 2 crore.
Shafiqul had come to Bangladesh from Saudi Arabia.
Md Riazul Islam, deputy commissioner of Dhaka Customs House, confirmed the development to The Daily Star yesterday.
He said Shafiqul had brought a charger fan with him, and after scrutinising the object, gold bars were found inside the battery chamber, he said.
During interrogation, Shafiqul claimed that he was unaware about the gold and his uncle requested him to take it to Bangladesh. He was supposed to hand the fan over to his uncle's family.
Sometimes, expatriates knowingly smuggled gold just to earn some easy money, claimed investigators.
On April 30, customs officials seized gold from three passengers' bodies at HSIA. They had come to Bangladesh from Dubai. The estimated market value of the gold is Tk 2.54 crore.
Officials claimed that sometimes, passengers handed over gold to airport officials to carry the consignment out.
On March 24, customs officials detained a Qatar Airways employee and seized 56 gold bars, weighing a total of 6.5 kg, at HSIA.
The detainee was identified as Tajul Islam, an airport service agent of the airline.
Tajul was detained in the boarding bridge area of the airport with the bars, wrapped with scotch tape. A passenger handed the gold bars over to Tajul, said customs officials.
Earlier on February 25, Customs detained a cleaner of Civil Aviation Authority of Bangladesh (CAAB) with 36 gold bars weighing over 4 kg at HSIA.
Md Suruzzaman was detained, as he was trying to take the bars out of the airport inside his pocket. An inbound passenger might have smuggled gold to the country and handed it to the cleaner, suspected officials.
The Daily Star tried to contact the CAAB chairperson, but he did not pick up the phone.
Contacted yesterday, a high official of CAAB said the organisation cannot be held responsible for the misdeeds of its staff.
"In case of involvement of any CAAB staffer in such wrongdoings, we urge law enforcers to take action," said the official, requesting anonymity.
Customs House DC Riazul said they have increased vigilance regarding gold smuggling and are taking action.
"Steps have also been taken to increase our workforce in the airport to watch the smuggling activities more effectively," he added.