Biman's exam committee members to be interrogated, says DB
GM, DGM among them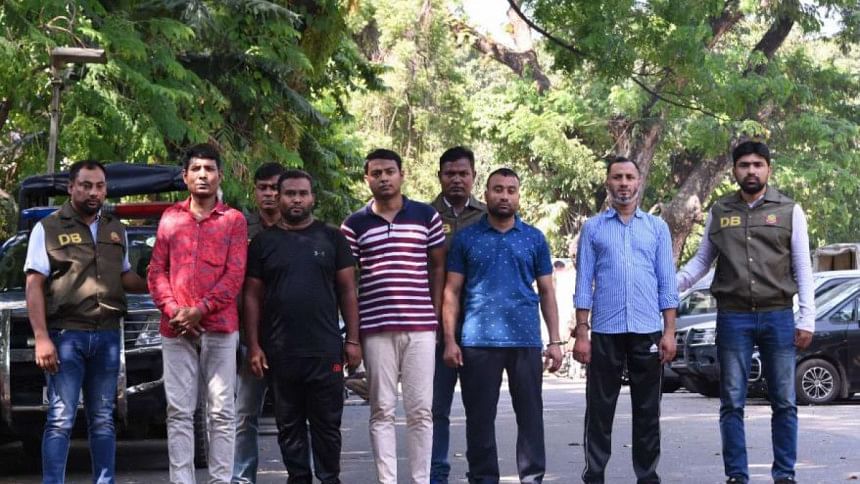 Detectives will interrogate the members of the committee formed to conduct recruitment tests of Biman Bangladesh Airlines as several question papers got leaked ahead of the exams yesterday.
"The exams-conducting committee involving Biman's GM and DGM was supposed to take all measures to stop question leak. Yet, the office assistants leaked the questions…We will interrogate all and take legal action," said Mohammad Harun or Rashid, chief of Detective Brach of Dhaka Metropolitan Police.
Asked whether any member of the committee is involved with the racket, Harun said they are investigating it.
Hrun was speaking at the DMP media centre after arresting five employees of Biman in connection with the question leak.
The arrestees are: Motor Transport Operator Jahangir Alam (36), Mahfuz Alam Bhuiyan (31), Enamul Haque (27); office assistant Awlad Hossain (29) and Harun or Rashid.
The question leak forced the authorities to suspended the tests for different posts before those began yesterday (October 22, 2022) afternoon.  
"The arrestees were involved in question leak in previous recruitment tests… we have identified some other and we will arrest them too," Harun said.
"We will appeal [before a Dhaka Court] for taking the arrestees on remand to know how they got the questions," he said adding detectives will try to find out other beneficiaries.
Following the suspension of the tests, the national flag carrier has formed an enquiry committee to investigate the incident, sources at Biman said.
Led by Chief Financial Officer Md Naoshad, the committee has been asked to submit its report within five days.