A fatal deception
Syndicate selling cheap injections with false labels at high price; DB arrests 3 members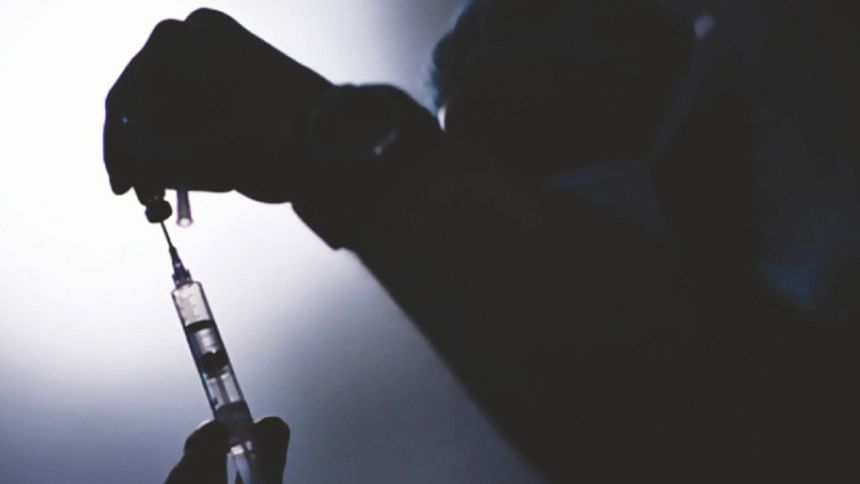 An organised syndicate has been distributing counterfeit injections in the market, which are needed for kidney dialysis, newborn jaundice prevention, and vitamin-K deficiency treatment.
Their modus operandi involves acquiring low-priced injections or medicine from the market, then putting stickers of international brands on them, and subsequently selling the products at high prices.
They distributed these products in the wholesale medicine market at Mitford, which eventually reached retail outlets nationwide.
The police's Detective Branch (DB) uncovered these activities following the arrest of three key members of the syndicate during a raid on a flat in Mohammadpur on Tuesday.
The arrestees were identified as Ashfaq Ahmed Ali, 36, Jashim Uddin, 37, and Shuvo Barman, 29.
The flat was identified as a hub for the syndicate's counterfeit pharmaceutical activities, said Harun Or Rashid, additional commissioner (DB) of the Dhaka Metropolitan Police.
The DB chief said the syndicate acquired tetanus injections from the market for Tk 100 each and put seals of Switzerland-based injections over them before selling each for Tk 4,015.
These injections are administered to expecting mothers. They are mainly used to prevent child death or disability when the mother's blood group is detected negative, he said.
"For kidney dialysis, the syndicate used low-cost India-based injections, priced at Tk 500, but sold them for Tk 10,587, putting labels of a US-based company on them," he said.
Similarly, they marketed locally produced injections for treating vitamin K deficiency at Tk 690, while their actual price is Tk 20, by falsely attributing them to a French company.
"We will inform the drug administration of the investigation updates so that action can be taken against the sale of such fake medicine," said Harun.
He urged pharmacy owners to refrain from dealing with counterfeit medicines and report any attempts by syndicates to sell such items.
HM Nazmul Ahsan, an associate professor at Shaheed Suhrawardy Medical College Hospital, cautioned against the potential harm caused by using alternative or incorrect medicines, particularly for newborns.
Rafiqul Islam, additional deputy commissioner of Motijheel division DB police, told The Daily Star that the syndicate has been involved in selling such medicines for the last four to five years.
It has around seven members, he said, adding, "We have got details of others and are conducting a drive to arrest them."
"We are also trying to trace those supplying labels or logos of foreign companies to this syndicate," he added.