Russel wanted to be an army officer: PM
Urges armed forces to be prepared to fight any threat to Bangladesh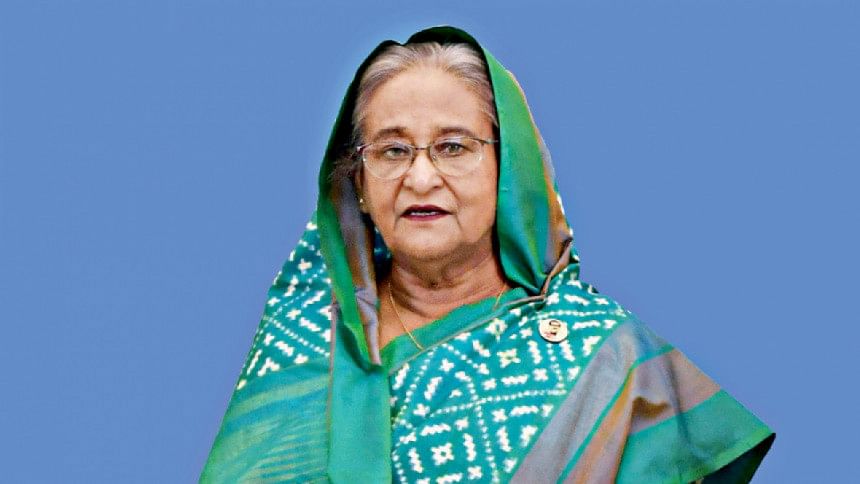 Prime Minister Sheikh Hasina today asked Bangladesh Armed Forces personnel to always be ready to protect the country's independence and sovereignty.
"We don't want to engage in war with anyone… But, we have to defend ourselves in case of enemy attack," she said.
The premier said this while addressing the inaugural ceremony of Sheikh Russell Cantonment at Jazira in Shariatpur, joining virtually from her official residence Gono Bhaban.
She extended her gratitude to the army chief and members of army for naming Mawa and Jazira cantonments as "Sheikh Russell Cantonment", mentioning that her younger brother had also desired to be an army officer.
She said, "I believe that each member of the armed forces will gradually enhance their reputation with wisdom, professional skills and dutifulness."
She pointed out that Bangabandhu Sheikh Mujibur Rahman formulated the "National Defense Policy-1974" and within a short time, he established more than 100 units and institutions for the army, including the Bangladesh Military Academy and the Combined Arms School.
After the brutal assassination of Bangabandhu along with most of his family members on August 15, 1975, she said there was instability inside the Armed Forces and nearly 19-20 coups were staged when many officers and soldiers were killed.
Assuming power after 21 years in 1996, she said that the Awami League government adopted the development and modernisation plan for the Armed Forces.
She said they have established National Defense College and Military Institute of Science and Technology in 1998 while Bangladesh Institute of Peace Support Operations Training and Armed Forces Medical College in 1999.
Besides, her government first recruited female officers in Army, Navy and Air Force in 2000, she added.
After winning consecutive elections since 2008, she said they have been implementing short, medium and long term plans to build a trained and up-to-date armed forces, framing "Forces Goal-2030" on the basis of National Defense Policy-1974 formulated by Bangabandhu.
In addition, she said they've established Bangladesh Peace Building Center in 2016 and formulated 'National Defense Policy, 2018.
To match up with the developed world, the premier said her government has incorporated modern infantry gazettes to the army.
"My goal was that each member of our Armed Forces might prepare themselves in a time-befitting manner," she added.
Sheikh Hasina said her two brothers Sheikh Kamal and Sheikh Jamal were members of Bangladesh Army, but later Kamal enrolled in Dhaka University due to their mother's decision.
She said Sheikh Jamal joined the army completing regular training at the Royal Military Academy Sandhurst.
Chief of Army Staff General S M Shafiuddin Ahmed also spoke on the occasion.
General Officer Commanding of 9th Infantry Division and Commander of Savar Area Major General Shaheenul Haque presented a brief description of the Sheikh Russell Cantonment.
At the outset of the ceremony, an audio-visual documentary on the Sheikh Russell Cantonment was also screened.