An indomitable farmer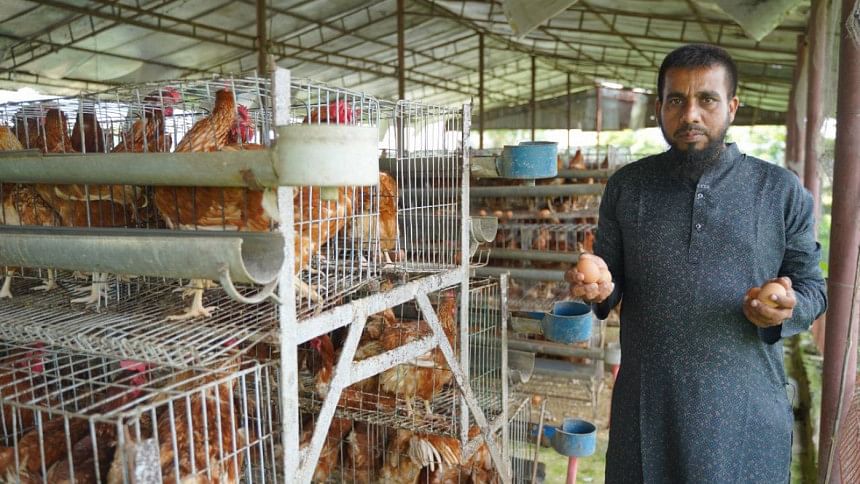 Farming means everything to Habibul Bahar Sujan. The successful young man wanted to be a farmer since his childhood. But success does not always come easily. People have to be skilled to be successful.
Dear readers, today I will tell you the story of a resilient farmer, who wanted to understand the real economy behind the farming sector. That's why he is cultivating eggplant and planted banana trees. He started with 30 layer and 500 broiler chickens.
Alongside building the farm, he continued his search for knowledge on farming, either from newspapers or television.
Whenever he hears about a large farm, he rushed there in search of knowledge and found solutions to his problems with the experts' advice. He wanted to do something new besides his poultry farm. He thought if chickens can be raised in cages, why not ducks. Later, he erected a bamboo loft on the pond and built a modern duck farm.
He was also doing fish farming as he knows that if agriculture is not diversified, profits will decrease.
I went to Sujan's farm at Betbari in Mymensingh Fulbaria upazila in June this year to find out how far Sujan has progressed. You probably have seen documentaries I made on him, based on his early farming career and progress.
This time, I went to there to see what he has done so far and to learn about his thoughts on modern farming. When I reached Betbari, it was calm and quiet. "So, what's the size of your farm now," I asked Sujan. "Sixty acres," he replied.
"Neither fish nor poultry is giving me the profit I used to get previously," Sujan said. Walking along the pond, I saw papaya gardens on the banks of the pond and the yield is quite good.
Sujan said he is doing fish farming in 19 small and big ponds. As he was not getting the desired profit from fish, he built the papaya garden and uses the profit money in his fish farming.
I wanted to know why he is not getting the desired profit from fish farming. "High price of fish feed, compared to the fish prices in the market," he replied.
"Moreover, Sucker fish is killing the other fishes in the pond," Sujan added. He suspects that birds might have carried the sucker fish in his pond or there could be its fingerlings, mixed with other fishes he bought.
Sujan produces 800 to 850 tonnes of fish round the year and gets fair price only for tengra, shing, and magur. He also has 25,000 to 30,000 chickens in his farm and of them 15,000 lay eggs. I wanted to know how many eggs he gets every day? About 13,000 eggs, he said.
However, Sujan is not satisfied with the egg production. "I don't get its price compared to the cost of poultry feeds," he said. Then what is the solution to this problem? Sujan said the government does not have any monitoring of the animal feed market. Price is increased through syndicates. Usually, large farms produce their own feeds and gain more profits. But small and medium entrepreneurs are the worst sufferer. If the problem is not resolved immediately, many small farmers will become destitute and unemployment will increase. The government should take prompt steps to protect the small and medium farmers. Amid the spread of coronavirus and Russia-Ukraine war, the price of raw materials also increased a lot as the import decreased.
According to data obtained from Bangladesh Poultry Industries Central Council (BPICC), the price of soybean has increased by 88 percent in the last two years while prices of other raw materials increased by up to 123 percent.
However, despite all these problems, Sujan is happy with his farm. "Agriculture is a combination of profit and loss and it should be versatile," he said. As if a loss in one project can be compensated by the other.
He started a cattle farm to cope with the loss from ducks and chickens. Sujan just started his cattle farm with 10 to 12 cows and hopes there will be at least 150 cows in a short time.
Dear readers, not only in the farming sector, there is a profit and loss factor in every productive business. So, every entrepreneur should enter the field with a clear view of market analysis, consumer demand and product marketing process. Success will come if you use the right judgment, the way Sujan is moving ahead. He always cross-checks the market management before investing. We all know, strategy is the key to success.