First on Facebook live from Ctg depot fire, Nayan goes silent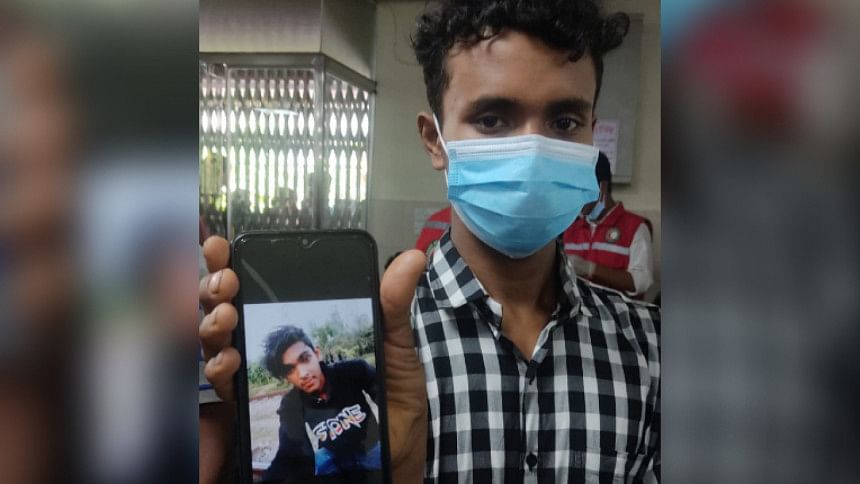 "We were all together after the fire broke out at the container depot. Nayan was the first to go on Facebook live – providing updates on the fire. At one point there was a huge explosion, triggered by the fire. Nayan went silent and the screen went dark," recalled Ariful Islam, a friend of Oliur Rahman Nayan.
Ariful was seen standing in front of Chittagong Medical College Hospital (CMCH) mortuary. His eyes red and teary.
Nayan, who worked at BM Container Depot, went on Facebook live at 9:17 pm after a fire broke out in the depot. His 41-minute live video went viral on Facebook as the deadly blast was captured in it.
The explosion originated around 40 minutes before the live video was recorded. At that time, fire fighters were trying to control the flames.
Ariful, who is a covered-van driver at the depot, burst out in tears after identifying Nayan's body, from his hairstyle. The friends used to live near the depot in Sitakunda's Kumira area.
Nayan hailed from Moulvibazar's Kulaura. His father's name is Ashik Mia.
Narrating the incident, Ariful said, "When the fire broke out, we asked Nayan to leave the area but he refused and continued his Facebook live. We later started watching his Facebook live on our mobile phones. Following the blast, he became silent."
"After the incident, we tried to enter the depot to find him but failed due to heavy smoke and rush of rescuers. His mobile phone was also switched off. Later, we came to the hospital and searched for him in different wards," he said.
Nayan's body was identified around 11:50am this morning inside the mortuary, he added.
Another colleague of Nayan said, "If he listened to us at that time, he would be alive now."
Arif said Nayan's family members were informed about the incident and they were on the way to Chattogram.
Nayan's mother Hasina Begum told this newspaper that Nayan talked to her last at around 2:00 pm on Saturday.