Spices, Onion, Garlic: Supply adequate yet prices go up
Despite having adequate supplies, retail prices of some spices and essentials have gone up in city markets ahead of Eid-ul-Azha.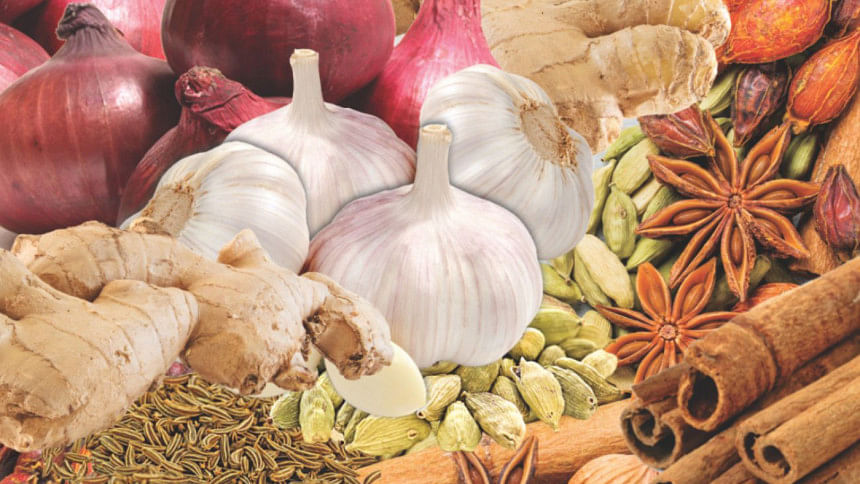 Despite adequate supplies, retail prices of some spices and essentials have gone up in city markets ahead of Eid-ul-Azha.
Prices of each kilogram of cardamom, cinnamon, cumin, clove, raisin and black pepper have soared by Tk 20 to Tk 100 in a week. Retailers and wholesalers have been trading blame over the rise in prices.
Each kg of potato, garlic, ginger and onion has become costlier by Tk 5 to Tk 20.
The Daily Star on Thursday visited several retail and wholesale markets in the capital's different areas, including Karwan Bazar, Moghbazar, Jatrabari, Mirpur and New Market, and found a significant gap between wholesale and retail prices.
Imported garlic was being sold at Karwan Bazar wholesale stores at Tk 50 a kg. But the retailers at the same market were selling the item at Tk 70 to Tk 80.
Such price hike ahead of Eid has become a common problem for consumers, particularly for the low and middle-income people, over the years.
Alauddin Ahmed, a shopper in Karwan Bazar, yesterday alleged that traders increase prices of essentials intentionally ahead of Eid to make extra profit.
"I bought a kilogram of [imported] garlic at Tk 55 early this month, but its price has now soared to Tk 80. I spent Tk 1,600 to buy a kilogram of cardamom, meaning I had to pay an additional Tk 200," said Alauddin, a film producer.
"I don't find any logic for such a price hike. Traders do this targeting Eid because people like me have no other option but to buy the commodities at an increased price."
Retailers, however, claimed that prices have gone up in wholesale markets like the previous years as Eid is around the corner.
However, this newspaper found wholesale prices of most of the commodities, except for some spices, were almost stable in last one week. The wholesale prices of some items, including onion, have gone down in last four days.
Yesterday, imported onion was selling at Tk 30 a kg at wholesale stores, down from Tk 36 a kg a week ago.
Mohiful Islam, a retailer at Karwan Bazar, said, "There is no other logical reason behind the price hike except for the Eid. We have to buy the commodities at higher wholesale prices."
But the wholesalers have other views.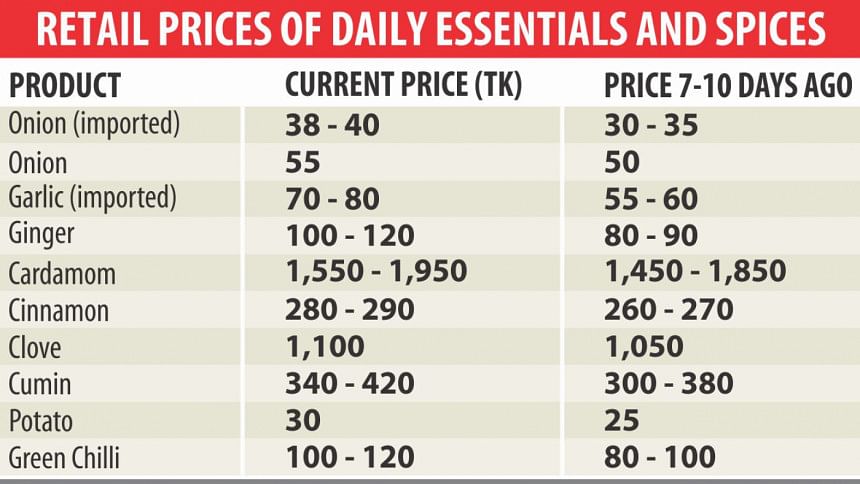 "The Eid is only three days away. So it is quite likely that the retailers will sell their products at higher prices. At our market, prices of most of the products are stable," said Mamun Mollah, a wholesaler at Karwan Bazar.
Mohammad Mizan, a retailer in Moghbazar, alleged that some traders form a syndicate to increase the prices of commodities at the beginning of each month because most of the employees shop during that period after getting their salaries.
He said prices of some commodities are a bit higher now as Eid-ul-Azha will be celebrated this month. The prices would not go up further, the trader added.
Md Enayetullah, president of Bangladesh Paikari Garam Masala Baboshayi Samity, claimed that prices of some spices have come down.
He said cumin was sold at Tk 310 a kg yesterday, down from Tk 330 three days ago.
"We are not doing a good business recently. Goods are being stored at the shops as only a small number of retailers are buying spice now," he said.
About the retail price hike, he said some retailers might have been taking an undue advantage of the occasion of Eid.