N Korea fires 23 missiles
One lands close to South Korea coast; Seoul retaliates by firing artillery barrage across NLL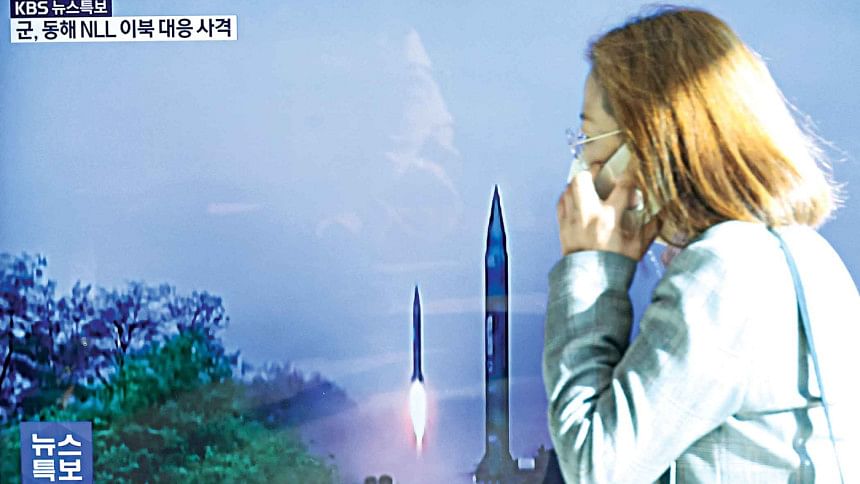 North Korea fired at least 23 missiles into the sea yesterday, including one that landed less than 60 km (40 miles) off South Korea's coast, which the South's President Yoon Suk-yeol described as "territorial encroachment."
It was the first time a ballistic missile had landed near the South's waters since the peninsula was divided in 1945, and the most missiles fired by the North in a single day. South Korea issued rare air raid warnings and launched its own missiles in response.
The missile landed outside South Korea's territorial waters, but south of the Northern Limit Line (NLL), a disputed inter-Korean maritime border.
South Korean warplanes fired three air-to-ground missiles into the sea north across the NLL in response, the South's military said. An official said the weapons used included an AGM-84H/K SLAM-ER, which is a US-made "stand-off" precision attack weapon that can fly for up to 270 km with a 360-kg warhead.
The South's launches came after Yoon's office vowed a "swift and firm response".
The United States condemned the North's missile launches and "its reckless decision to fire a missile below the de facto maritime boundary with the Republic of Korea," a State Department spokesperson said yesterday, using the South's official name.
The North also fired more than 100 rounds of artillery from its east coast into a military buffer zone, South Korea's military said. The firing violated a 2018 military agreement banning hostile acts in border areas, the JCS said.
North and South Korea are technically still at war because their 1950-53 conflict ended in a truce, not a peace treaty.