Bamboo orchestra holds audience in its sway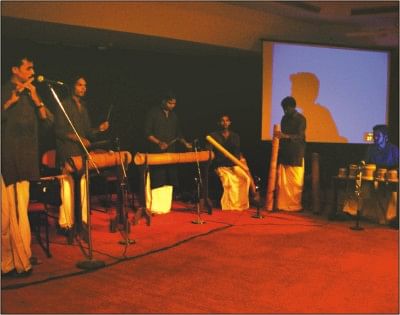 Just the other day, Delhi resonated to the beat of a bamboo orchestra. Courtesy Vayali, a Kerala-based group, a six-member band held the audience captive with a drum, flute and cylindrical percussion instruments fashioned from bamboo. Heading the team was the dhoti-clad software engineer Vinod Nambiar (on the drum), who is the main force behind the group.
The band was playing at an event organised by Pravah, an NGO and Ashoka: Innovators for the Public, supported by the Sir Ratan Tata Trust under the Youth and Civil Society Initiative and the Global Fund for Children, under their Change Loom project.
The bamboo orchestra set the tune for the programme. Likewise the band played at the conclusion of the ceremony.
Vayali was first exposed to the bamboo orchestra at the Traditonal Music and Rhythm Festival in Japan (2006). Says the Vayali website, "The Vayali Bamboo Orchestra in the past has incorporated traditional folk music and given a whole new appeal to the depleting interest in ethno-music."
Apart from its bamboo orchestra, Vayali has other projects as well: Documenting the folk art of Kerala, Imparting the knowledge of folk art to the younger generation, using art as a medium for generating livelihood for artistes and preserving nature and resources.