Financing social business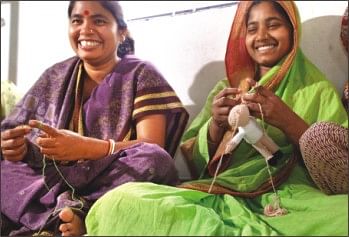 Social business can generate both social and financial returns and is highly suited to enabling poverty reduction in Bangladesh. It is generally agreed that creation of good quality, fairly paid rural employment opportunities are required to reduce rural poverty and, in my opinion, social business is likely to be the most cost effective and sustainable way forward.
Bangladesh has more than 20,000 non-governmental organisations (NGO) in operation, many with income generating activities, which could loosely be described as social businesses already. Many are already rural-based and have good and trustworthy links within the communities in which they work.
It is often claimed that such income generating activities are failing to live up to potential due to constraints in market linkage when in reality, maybe the first step should be for them to develop a sales offering, which is targeted towards a particular market.
Financing social business needs to start with researching the feasibility of business plans. Research should not seek to apply a simple pass or fail criteria but should be structured to help business focus on its strengths and develop a growth strategy on this basis. To develop solid and strong social businesses, we need to start with planning, which will give a strong foundation to the business.
Whilst this is technically not 'financing', it is important to consider the outcomes we are trying to reach and then redefine the words accordingly. If there are few or maybe no social businesses ready for financing then we need to take one step back in the process and work first to develop coherent business strategies in partnership.
Patient capital is a new term in social business and has developed out of the understanding that social business, with its divergent social and financial strategies, will not in most cases be able to repay debt at the pace that traditional business would. In such cases, financing needs to be seen in the longer term and the need for capital repayment holidays or interest repayment holidays become necessary to enable the business sufficient time to become established and start to generate profit.
We have only recently started to see commercial banks lending to SMEs in Bangladesh, a well established sector in developed economies, and since social business is still establishing its place in many of those developed economies, it would be optimistic at best to assume that commercial banks would see the opportunities in lending to social business in Bangladesh anytime in the near future.
In reality, social business will need to be around for some time and have established itself as a viable and profitable sector before commercial banks will start to see the opportunities.
Grants have long been a valuable addition to the income of NGOs in Bangladesh and could equally bring benefits to this new class of social business. Importantly, the grants should be seen as part of the research and establishment phase with a clear channel for moving to more commercial debt or equity options with growth.
For some years now, it has been out of 'vogue' for donors to make grants for the acquisition of assets, seeing some conflict between the value of benefiting final recipients and benefiting the NGOs themselves. If we consider grants in the context of social business, where the primary objective of the social business might be to create rural employment, then direct benefit to the business will definitely bring indirect benefit to recipients through creation of further employment.
Where grants can be used for asset acquisition, the assets can be subsequently used as collateral for future debt financing, enabling a clear path for social business from initial grant funding to commercial lending over time.
There is a need to consider financing for social business beyond traditional definition. The path to financing and the various forms of financing need to be coordinated and coherent, starting with business planning and support for establishing business, through support in asset acquisition and lending on commercial terms.
Social business tends to be more risk averse than traditional business since the social impact is considered with at least equal weight to financial gains. As such, decisions are entrenched in the social business to mitigate risk with diversified strategies on markets, customer base, suppliers and currencies.
Bangladesh is a country where natural disasters pose a constant threat; where insurance is a fledgling industry and where it is unlikely that insurance could ever be sufficiently cost effective to enable risk mitigation for rural business.
Good work on building business over several years could be wiped out by one severe monsoon season, considering that financing social business cannot be complete without considering a strategy to mitigate the risk of natural disasters. It is unrealistic to expect rural business to rebuild on debt financing. Clearly, debt financing needs to be limited to business growth.
Subsidised insurance or tax breaks on insurance may be a way to make mitigating risk of natural disasters in rural Bangladesh possible where all the stakeholders business, government and donors -- are contributing.
Tax breaks might also be used to encourage foreign financing into larger social businesses as an alternative to commercial lending for growth. Just as corporate social responsibility investment from larger companies based in Bangladesh has grown and been encouraged by tax incentives, foreign investment from socially responsible funds might also be encouraged through tax incentives and reduced bureaucracy.
The definition of financing has been stretched in these instances to capture a full lifecycle approach to supporting business. It would be great to see a one-stop-shop, a type of 'caring bank' develop to facilitate such a complete coordinated approach.
Social business is finding mainstream interest in the rest of the world and other countries are dealing with financing and promoting it. The UK already has a minister for the Office of the Third Sector and on July 15 this year, it launched plans for a Social Investment Wholesale Bank (SIWB).
Without a doubt there is need for a coordinated approach to financing social business in Bangladesh, to enable the sector to flourish. Get it right and we have a powerful new tool to reduce poverty, get it wrong, and we risk languishing stagnant rates of poverty for several more decades to come.
The writer is the CEO of Hathay Bunano and welcomes feedback at [email protected]