Fire safety in workplace:Bangladesh perspective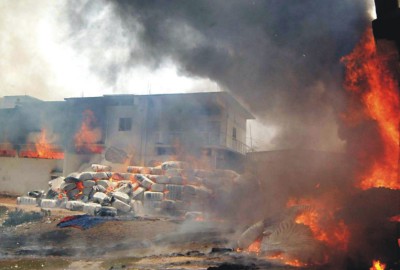 FIRE safety' matters are no longer limited within 'fire extinguishment' i.e. 'fighting the fire' only. Modern concept involves integrated measures on prevention, detection, and protection at planning stage to execute effectively for saving Life and Property from fire. Every year in the month of April 'Bangladesh Fire Service and Civil Defence' observes fire prevention week throughout the country. But, it is high time that we should start 'National Fire Safety Campaign' in modern conceptual perspective and follow the same round the year through various programmes.
Our Factories Act of 1965 (now abolished), Factories Rules of 1979 (undergoing amendments) and Fire Prevention and Extinguishing Rules 2003 provide broad guidelines (though inadequate) on fighting fires and evacuation system only. There is almost nothing on 'preventive' measures against 'fire' in our legislation. Owners of buildings and businesses, and employers feel contented about compliance with existing fire safety law by keeping a few fire extinguishers only, and that too without following rules and procedures.
The most important and mandatory Rules (Sub Section-9, 10, 11 of Section-52, of Factories Rules of 1979) as enunciated below are not followed anywhere in the country.
i) Every worker of the factory should, as far as possible, be trained in the use of portable 'fire extinguishers' subject to a minimum of at least one-fourth (25%) of the numbers engaged separately in each section of the factory (Sub Section-9).
ii) Each factory shall have a trained officer who shall be responsible for the proper maintenance and upkeep of all 'fire fighting' equipments (Sub Section-10). The Manager of the factory shall prepare a detailed 'fire safety plan' for proper enforcement of fire safety rules and for actions to be taken in proper sequence, in the case of a fire
in the factory.
In technologically advanced countries, fire safety regulations have undergone many changes/amendments over the past years. The revised fire precautions legislation includes fire safety measures in the workplace to ensure worker's safety from risks at all times. This legislation puts the responsibility of complying with fire regulations on to the employer himself. This means that, it is the duty of the employer to carry out relevant assessment to ensure a safe working environment for his employees. Adequate precautions must be taken to minimize any possible risk after completing a 'fire risk assessment' as per law.
In Europe requirement of having 'fire certificates' is being abolished and instead 'fire risk assessment' is becoming the primary method to manage fire risk in the workplace. The new fire regulations identify a responsible person who is required to ensure that a suitable and up-to-date 'fire risk assessment' exists on site. From 2006, the new regulations are being enforced more vigorously as the government campaign suggests 'failure to have a valid fire risk assessment on site could lead to fines and or imprisonment'.
Why at all is a fire risk assessment necessary? The purpose of fire risk assessment is to improve safety management system, NOT simply to fill up forms and files. The assessment has to be both suitable and sufficient, and must never be carried out in isolation but in a practical and systematic manner. Naturally, there cannot be any 'off the shelf solution'. Every workplace is different. It is vital that assessors are able to seek commitment from the top of the organization and to consult with all relevant personnel, this will ensure acceptance of findings without grumbling.
Paradigms are being shifted to emphasize the concept of fire assessment and safety systems as organizations attempt to reduce losses effectively. So much so that all employees must have an understanding of fire, how quickly it can spread, and how devastating its impact can be. With this knowledge, employees will be better equipped to recognize fire hazards in their work environments and take steps to introduce and practice fire-safe behaviours. Ultimately, fire risk assessment will help to save money, reduce liability and risk of business failure.
As per amendments the employer is responsible to protect his premises and staff from any safety risks. A fire safety plan will help to minimize possible hazards and that there are emergency procedures in place. A good 'fire safety plan' will protect the business from any unnecessary loss or damage. It should include regular fire risk assessment to identify risks, extensive staff training in all aspects of fire safety and an effective emergency procedure so that people can leave safely and quickly. In Bangladesh, Sub-Section 11 of Section 52 of Factories Rules 1979 requires the Manager to prepare a detailed fire safety plan but, in practice perhaps NOT a single plan is available in our industrial sector. It is a preventive measure that no one can do without.
Industrial units, office buildings, apartments are not assessed on fire risk, as the system has not been incorporated in our country. Just to meet the general inquisitiveness of our readers, the phases of fire risk assessment is mentioned below:
Step 1: Identify the hazards: A fire hazard is anything that may cause a fire to start. List the fire hazards including ignition, fuel, and oxygen sources. In a garments factory it may include boiler room, stores, raw materials, heater, laundry, gas cylinder, and oven, etc.
Step 2: Decide who might be harmed and how? List the people who are at risk from fire or smoke. Consider where people would be stationed in case of fire and who specifically at risk.
Step 3: Evaluate the risk and decide on precautions. The risk is the chance (high, medium, or low) of starting a fire at any place without notice. Decide what is being done or can be done to reduce or remove the risk.
Step 4: Record your findings and implement them.
Step 5: Review
Fire prevention is the key for safe working environment. Once risk assessment is completed, and possible dangers are identified, those must be minimized immediately by concerned specific authority. Shifting of burden on other's shoulder is not helpful. Failure to take appropriate action can destroy a business for good. Preventive measures against fire are essential because, the best way to fight a fire is to prevent it from occurring. To prevent fire and safeguard the workplace, one must be aware of one's responsibilities. A workplace is expected to have designated fire exits, fire alarms, detection systems, fire extinguishers, and regular fire drills. Staff training in safety procedures is also essential so that people know what to do during emergencies.
Despite all prevention efforts, fire can still occur in the workplace. It may occur because of equipment failure, an unanticipated hazard, an act of violence, or due to a violation of fire safety rules. If a fire does occur in the workplace, the extent of preparation will determine the chances of everyone getting out safely and the loss kept to a minimum. Readiness for a fire emergency is referred to as the 'Fire Defence Triad' which has three components as follows:
(a) Detection/Notification: Finding out that there is a fire, as early as possible, letting all building occupants know about it, and notifying fire service to respond.
(b) Emergency Egress (escape): Having a way to exit the building safely and to make sure everyone is out.
(c) Incipient Suppression: Having automatic sprinkler systems, fire hoses (provided water is available) and portable fire extinguishers that can put the fire out in its early stage (i.e. within 3 minutes).
Fire Protection: An employer/owner of the business must be aware of how to protect working environment from unnecessary damage due to fire. A fire risk assessment will help to identify any possible 'danger' so that one can get them changed/modified/reduced well ahead in time.
Fire protection is an essential part of safety in the workplace. In our country, installation of automatic detection system has not been made compulsory for all industrial units as yet. 'On site' fire fighting systems hardly exist. Fire extinguishers which are seen mounted on the wall are either strapped with lock (to stop theft) or are non operational. Most workers/staff do not know what to do during fire and how to use fire extinguishers. From any standard, our preventive measures are nil, protective measures are next to nothing. Though out of date, strict compliance with the Factories Acts and Rules could have ensured safety against fire up to a limited extent. But due to glaring non-compliance, our factories/buildings/ installations fall short of safety/fighting measures very badly and remain vulnerable even to small fires.
Fire safety is not a matter to be kept confined within cyclic activities like official ceremonies, publishing supplements in daily newspapers, 2-3 days coverage in the media, forming high power inquiry committees, and then forgetting the whole issue till such time fire strikes and destroys life and property to start the cycle afresh. It is a voluminous and complicated task to be performed by all in an integrated manner.
The author is a fire Protection graduate from the USA