TV Watch
A talent hunt for underprivileged girls
"Nachey Gaaney Number One" on Ekushey TV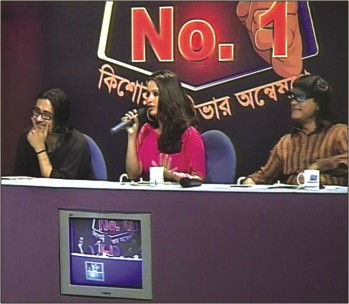 "Nachey Gaaney Number One," a talent hunt for underprivileged adolescent girls, will be aired tonight on Ekushey TV at 7:45pm. Jointly produced by BRAC and Ekushey TV, the programme features 30 young girls, who have never received any formal education, from 59 districts of the country. Through a four-step selection round, best two (one as the best singer and the other, best dancer) will be selected from these competitors. On today's episode, 14 girls will compete against each other.
Music composer and lyricist Prince Mahmud, singer-musician Hamin Ahmed and pop singer Kaniz Suborna are judges of the music section while film actors Anjana, Aruna Biswas and dance artiste Sohel Rahman are judging the dance segment. The audience can also vote for the contestants, starting from the SMS round, which will feature performances by the best ten.
The show is produced by Tinku Azizur Rahman and Sylvana Sadia, and hosted jointly by Mim, Shimonti and Hiya.