<i>World heritage site left in ruins </i>
Terracotta artefacts at Paharpur monastery damaged due to lack of maintenance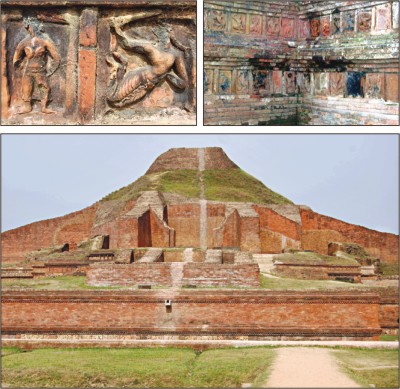 Terracotta artefacts at the Paharpur Buddhist Monastery, a world heritage site, are on the verge of ruination due to sheer negligence of the Department of Archaeology.
The Monastery, one of the most important archeological sites in South Asia, was declared as a protected site dates back to 1919 during the British colonial rule.
Custodian of the ancient site Abdul Latif Pramanik said lack of proper maintenance, shortage of manpower, fund constraint, soil salinity and heavy rainfall contributed to the decay of rare terracotta artworks.
"Even the main temple and other artifacts have been eroding day by day due to lack of proper maintenance," he added.
King Dharma Pal made the temple dates back to 770-810 century AD, according to the archeological documents.
Badrul Alam, field officer of Rajshahi Regional Office in Bogra, said the site was declared as the 'World Heritage Site' in 1985.
"As many as 2305 terracotta plaques were found in 2004," said Mahabub-ul-Alam, former custodian of the historical site.
A total of 595 terracotta sculptures of the temple completely eroded due to high salinity of the soil, lack of proper maintenance, heavy rainfall and negligence, said a high official of the department.
At least 1810 rare terracotta figures in the storeroom of the site are now a pile of ruins due to lack of preservation, sources said.
Prominent archeologist Sir Alexander Cunningham submitted a report after his visit to the site and other historical sites in India between 1861-1880. He was later made Director General, Archeological Survey India.
Terracotta artworks depicted images of man, women, flowers, and animals but most of the images have already worn away while some rare terracotta plaques are now shrouded in thick cobwebs.