Meril-Prothom Alo Award ceremony held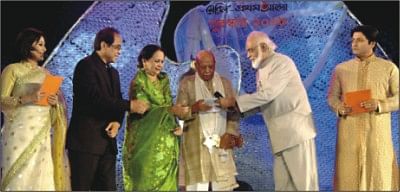 Meril-Prothom Alo Awards-2008 were distributed among TV and film starts and singers yesterday to honour and inspire the young talents for playing their role in the fields of music, film-making and TV production.
The Bangladesh-China Friendship Conference Centre turned into a union of cultural personalities yesterday evening as the Prothom Alo and Square Toiletries staged the programme to honour the stars.
The nominations for the popular awards were open to public voting.
Noted cameraman and film director Baby Islam received the lifetime achievement award for his outstanding contribution to the film production.
Renowned folk singer Mostafa Zaman Abbasi handed a cheque for Tk one lakh over to the veteran cameraman.
Matiur Rahman, editor of the Prothom Alo, handed a crest over to Baby, while Anjan Chowdhury, managing director of Square Toiletries, adorned him with a shawl.
Almost dramatically, award-winning comedian Naveed came up on the dais to present his stand-up comedy to the fun-loving audience who gave him a big round of applause.
Noted silver screen artiste Ferdous and TV actress Aupy Karim conducted the colourful programme with their lively and witty anchoring.
Sharmila Bandopadhaya got the award as best dancer and Raisul Islam Asad won the best actor (film) award. Best actress award went to Bidya Sinha Saha Meem, Murad Parvez bagged the best film director award, while film 'Aakash Chhoa Bhalobasa' won in the best movie award that was produced by SA Haq Alik. He also got another special award.
Deepta got the best singer award, while Mosharraf Karim won the best actor (TV) award and Munira Mithu bagged the best actress award. Nurul Alam Atiq and Ranjan Rabbani bagged the awards for best playwrights, while Amitav Reza won as best director award.
Best actor award went to popular young actor Sakib Khan, while another popular actress Shabnoor bagged the best actress award.
Mahfuz Ahmed won the best small screen actor award. Popular singer Habib Wahid and Krishnakoli got the best singer award, while rock band Aurthohin was awarded in best band category.