Djokovic battles thru'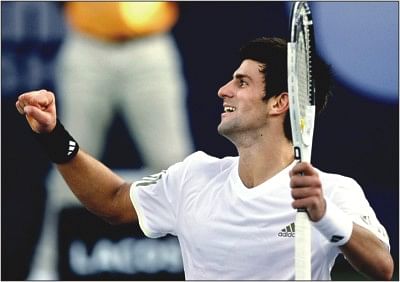 Top-seeded Novak Djokovic survived a scare and an exhausting battle of just under three hours in intense heat before reaching the final of the Dubai Open on Friday.
The former Australian Open champion from Serbia survived 3-6, 7-5, 7-5 against Gilles Simon, the world number eight from France, but only after going a break of serve down in the final set.
Neither man played at his best in on-court temperatures of more than 100 degrees Fahrenheit, with Djokovic making uncharacteristic errors in the first half of the match and Simon becoming rather passive in the later stages
Eventually Djokovic came through because his experience in tight situations was greater than his opponent's, and because Simon was not able to push through to make a double break of serve in the final set.
Asked how he got through it, the favourite said: "It's hard to explain. Physically and mentally I had to be all the time focused, and just believe that I can win. Fighting was the key today.
"I was being too aggressive and making a lot of unforced errors and I decided to be more patient."
Djokovic's difficulties began in the sixth game when he opened up the court with a nicely faded forehand drive, only to pull the ball wide with the attempted winner, losing his service game to go 2-4 down.
Simon consolidated the break and closed out the set, and looked likely to pinch the second set too, after surviving break points against him at 2-3.
But he had Djokovic at love-30 at both 3-3 and 4-4, and as the rallies grew longer and both players more tired, his tension increased. Serving to save the set at 5-6 he was lured into driving errors which caused the match to go to a decider.
Simon broke at once and led 2-0 and 3-1 but Djokovic, without ever playing really well, always looked capable of fighting back, which he did by regaining parity at 3-3.
The conclusion again happened with Simon was serving to save it at 5-6. The third seed crucially failed to put the ball away at the net at 30-30 and on match point at 30-40 allowed Djokovic to make the first decent strike, which set up a chance to put a smash triumphantly away.
Djokovic will need all his powers of recovery because in the final he will play an opponent, David Ferrer, who should be far fresher.
The fourth-seeded Spaniard overwhelmed the other Frenchman, Richard Gasquet, 6-2, 6-2 in the other semifinal in the cool of the evening, in only 75 minutes.
"It was a nightmare," said Gasquet, who had plenty of break points without converting any and whose challenge evaporated from early in the second set.
"I was very focused," said Ferrer, relieved to have won after losing two previous semifinals this year from match point up. "Playing Djokovic will be difficult of course but I shall fight a lot."