Oscar glory for 'Slumdog'
Clinches 8 awards, AR Rahman bags two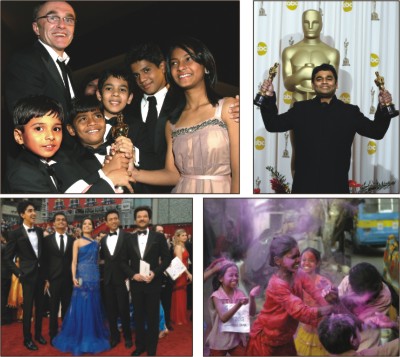 Rags-to-riches drama "Slumdog Millionaire" swept the board at the 81st Academy Awards here Sunday, winning eight Oscars including best picture on a night of high-voltage Hollywood glamour.
The feel-good film about a Mumbai tea boy who rises from poverty and enters a television quiz show to win millions and find the love of his life, won eight of the nine categories in which it was nominated at the Kodak Theatre.
The acting honours saw Sean Penn triumph for his portrayal of murdered gay politician Harvey Milk in the biopic "Milk" while Britain's Kate Winslet ended her Oscars losing streak for her performance in Holocaust drama "The Reader."
There was a tear-jerking posthumous Oscar for late Australian actor Heath Ledger, a moment of unforgettable poignancy that reduced the star-studded audience to hushed silence.
But it was the triumph of "Slumdog Millionaire" that stole the show, with more than a dozen members of the Bollywood-inspired movie's cast and crew crowding the stage to receive best picture from Steven Spielberg.
"We had passion and we had belief and if you have those two things, truly, anything is possible," said producer Christian Colson.
The "Slumdog" Oscar-haul included best director honours for British film-maker Danny Boyle and a brace of Academy Awards for Indian composer AR Rahman, who won for best song and original score.
India basked in the reflected glory of "Slumdog Millionaire" after the movie's Oscar success on Monday, although there was little red-carpet glamour to be found in the Mumbai slums where it was set.
The Danny Boyle movie, which won eight Oscars including best film, has a British director, producer, writer and studio, but India has claimed it as its own because of its Indian cast, crew and location.
National pride was further served by a double Oscar win for "Slumdog" composer AR Rahman, known here as the "Mozart of Madras," who scooped the best original score and best song statuette at the Los Angeles awards ceremony.
The film's Indian sound engineer, Resul Pookutty, won the academy award for sound mixing.
Smile Pinki, about an Indian cleft-lip girl, won best short documentary.
"They have done India proud," said Indian Prime Minister Manmohan Singh.
It was a fairytale night for "Slumdog", which had been nearly released directly to video last year after losing its US distributor, a move, which would have ruled it out of Oscars contention.
The best picture award brought the curtain down on a revamped Oscars ceremony that had earlier seen Penn and Winslet carve up the top acting honours.
Winslet, 33, won her first Oscar after five previous defeats, for her portrayal of a former Nazi death camp guard who starts a love affair with a teenage boy in post-war Germany and is later put on trial for war crimes.
Winslet admitted she had been dreaming of Oscars gold for a very long time.
Spanish star Penelope Cruz won the best supporting actress prize for her part in the steamy Woody Allen comedy "Vicky Cristina Barcelona."
Indian joy at Oscar night glory
India has been revelling in Oscar night glory, with the success of Slumdog Millionaire, its composer AR Rahman and the documentary Smile Pinki.
The success of Slumdog sparked massive celebrations back in the Mumbai slum where two of the film's child actors still live.
Rubina Ali and Azharuddin Ismail were both in Hollywood for the ceremony.
India's biggest winner of the night was however Rahman, 43.
He said as he accepted the award: "I just want to thank again the whole crew of Slumdog Millionaire, especially director Danny Boyle, for giving me such a great opportunity."
The composer said he hailed "all the people from Mumbai and the essence of the film, which is about optimism and the power of hope and our lives".
Pookutty said: "I'm the first Indian technician to be nominated for an Oscar and winning one... And it's an absolute glory for me myself personally and for my country."
Pookutty, a graduate from the prestigious Film and Television Institute of India, has been in the industry for more than 10 years and has worked on several big films.
A spokesperson for Indian President Pratibha Patil, said she was "specially thrilled with the remarkable feat achieved by AR Rahman, Gulzar, Resul Pookutty and making India proud".
Bollywood actor-director Aamir Khan said he was also "thrilled" by India's successes at the Oscars.
Smile Pinki, a 39-minute documentary by American director Megan Mylan on an eight-year-old Indian girl born with a cleft lip, had been one of the four short documentaries nominated for the Academy Awards.
There were celebrations in the north Indian village in Mirzapur district where Pinki lives.
The girl's uncle said several hundred people took part in a procession, chanting "Bharat mata ki jai" (Long Live Mother India).