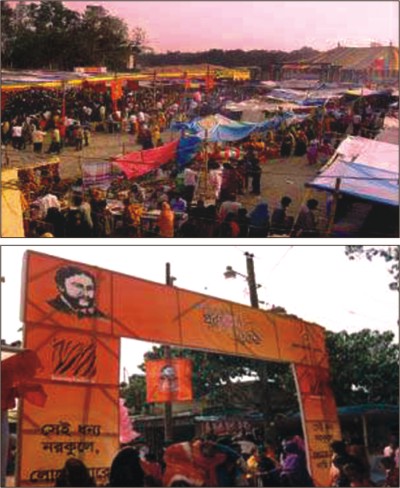 On the occasion of 185th birth anniversary of poet Michael Madhusudan Dutt, a weeklong 'Madhu Mela' was inaugurated by Khulna Divisional Commissioner (DC) Younusur Rahman on January 25. The mela is sponsored by Banglalink.
Organised by Madhu Mela Celebration Committee, this year's festival has received the patronage of the Ministry of Culture. Khulna DC Younusur Rahman was the chief guest at the inaugural. Among others, Deputy Commissioner of Jessore, Nepur Ahmed; Divisional Nirbahi Parishad director, Rais Uddin Ahmed; superintendent of police Iqbal Bahar; Banglalink official Babul Haq and upazila chairman, HM Amir Hossain spoke on the occasion. The discussion at the inaugural was chaired by additional deputy commissioner Hawlader Zakir Hossain.
Younusur Rahman said, "Michael Madhusudan Dutt stands out among his contemporaries. He became a world-renowned poet at the age of 49 and left an indelible impression on Bengali literature." Rahman added that a university would be set up at Sagardari, the poet's ancestral home, in memory of Madhusudan.
Members of Keshabpur Shishu academy and Bibarton, Jessore performed at the inaugural programme. Artiste Kuddus Bayati's performance was the highlight of the day.
On January 27, a discussion on "Madhu Sahitye Narir Droho" was held at the festival. Performances by members of Academy, Keshabpur and stage play by Spandon, Jessore were followed by Gazi Mizan's songs.
Yesterday, a discussion on Bengali Sonnet and Madhusudan's epic was held. Today, a discussion on Social satire in Madhusudan's literature will be held. "Close Up 1" stars Rinku and Palash will perform songs at today's programme.
Thousands of Madhusudan enthusiasts have gathered here to celebrate the poet's birth anniversary. The mela includes stalls offering sweets, cosmetics, toys as well as 'nagardola', magic show, circus, puppet show, 'jatra pala' and more.
The ancestral home of Michael Madhusudan Dutt is currently under the care of archaeological department, Khulna.
Madhu Mela ends tomorrow.