Revivifying wall magazines
Colourful show concludes at Bangla Academy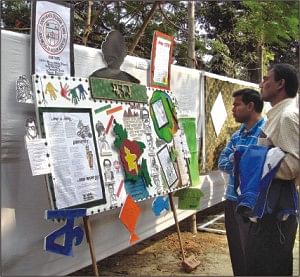 Wall magazines with stories, poems, cartoons, paintings, science fictions and other articles with beautiful illustrations adorned the walls of the Bangla Academy as a national competition on wall magazines has just ended there.
Students of many schools that took part in the three-day competition said they have learnt many things while writing or making a wall magazine.
"For seven days we worked for six hours at our teacher's house till midnight. We enjoyed the work a lot," said Shubho Chakrabarty, a student of St Gregory's High School that published three magazines titled 'Chetona', 'Shikor' and 'Shejuti'.
"I came to know about designs and illustrations from my friends. They also learnt from me. We fixed each other's mistakes and helped improve our work. It was a wonderful teamwork," said Jisan Mahmud, student of the same school.
"Every year we publish wall magazines. This time I was happy to see their creativity and work," said their Bangla teacher Ataur Rahman.
Schools from outside Dhaka have made equally beautiful pieces of art hanging on the wall.
"We first came to know about wall magazines in a theatre workshop in Dinajpur a couple of years ago. There we were taught how to make a wall magazine. After that we made two wall magazines on the Victory Day and Pahela Baishakh. From that time we continued to publish wall magazines," said Shafayet Hossain Sumit from Azimuddin High School, Kishoreganj.
Asked about the difference between a wall magazine and a school magazine, Sumit said, "In school magazine we write and then those are composed in computer and that's all. But in a wall magazine we write, we paint, we illustrate, we create new designs and learn a lot more things besides writing."
In the past bringing out wall magazine was a regular event in schools. Many renowned writers and artists of today started writing and painting through wall magazines of their schools.
"There was a time when wall magazines were widely seen in villages and small towns. Most of them were school-based. Many children organisations and libraries in the urban areas also published wall magazines.
"This practice was quite widespread and it was a part of our culture. Then gradually we started losing this culture with the aggression of other cultures. Now I feel happy to see this move to bring the wall magazines back to our cultural life," said artist Hashem Khan.
"This is a significant tool for encouraging children to teamwork, writing, drawing, illustration and management," he said.
"Our children should practise making wall magazines because it is a part of our culture. Social and cultural organisations can also publish their own wall magazines to maintain this culture," Khan suggested.
The renowned artist said, "Wall magazine is not something simple. It is something to enjoy. The reader will enjoy its beauty while reading the content. It is a matter of nice presentation and beautiful handwriting.
"I remember that I first started painting in the wall magazine of my school. I did not have any brush and I made one with cotton."
Deyal Potrika Parishad, organiser of the competition, said that schools from around 16 districts took part in the first national wall magazine competition in January last year. But this time the number is 18.
"We sent invitations to 650 schools in 64 districts but all of them could not respond due to the election and winter vacation. But we think next time we will get more response," said Jaganmoy Paul, member of the parishad.