Open garbage dump polluting air in West Nakhalpara
Although not a 'designated' dustbin, DCC trucks collect garbage from it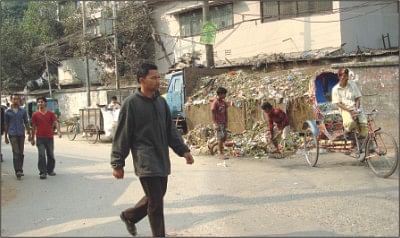 Nine-year-old Sameera was up early in the morning to get ready for her school on Bailey Road. Within half an hour she started for school along with her mother. But as soon as the autorickshaw reached the Lucas Battery roundabout in West Nakhalpara, they got stuck in a severe traffic jam.
An open dustbin, in fact without a bin, was occupying almost the half of the road. And that was the main reason for the traffic jam. The corner was full of garbage overflowing on the street.
After waiting for 15 minutes Sameera feared she would miss the role call of the first class. She started feeling nausea at the strong smell of garbage.
"This kind of thing happens almost every day," said Sabina, mother of the child. "Every morning we get stuck there in traffic jam. The strong smell of the dustbin is quite unbearable," she said.
People take rickshaws and autorickshaws from this place. The situation turns worse during the rainy season. Children are often forced to walk on the street full of garbage. Medical waste is also dumped there by nearby clinics.
"There is no bin at this place. It is a mystery why all the garbage vans dump trashes here and DCC trucks also collect garbage from here," said Sabina.
"Household garbage of around one lakh family of Nakhalpara area is dumped here. It is creating severe air pollution in the area," said MA Siddiqi, a retired joint secretary living in the area.
Wadud, a senior resident of the area, said, "Garbage should not be dumped in front of anyone's house or in any lane."
"We are ready to help DCC to shift this dumping place from here," said Sayeed Hossain, chief operating officer of Lucas Battery factory.
When asked, officials of DCC said there is no designated dustbin in that area. "There is no permanent dustbin in any of the 7 wards of zone 9 that includes Nakhalpara," said an officer of DCC zone 9.
"We have some selected places where garbage is dumped in the morning and collected in the evening. The same thing happens in Nakhalpara," he said. "But we are getting objections from the residents. Sometimes we have to shut it down temporarily in the face of complaints."
The official said DCC can do nothing until and unless they have a permanent dumping point in the area. "If we cannot do this, then we will have to stop collecting garbage from those areas," he said.
Citing instances, he said there was a dustbin on Gulshan road-104 which was demolished by the joint forces because the land was under Hatirjheel project. DCC was forced to shut another dumping place near Taltola Park in Banani in the face of complaints from the public.
"In posh areas like Gulshan, Banani and Baridhara DCC collects garbage under community service. But in areas like Nakhalpara there is no such service. So it is difficult to collect garbage this way," he said.
"DCC has some limitations because these areas are acquired by Rajuk and they are not providing land for dumping garbage. We have sent several proposals to Rajuk. But nothing has been done till now," he added.
The official said they are trying to manage small plots of 2-4 katha in a corner of any open space like parks, playgrounds or graveyards.
Rajuk's town planner Mortaza said it is not Rajuk's job to set up dustbins. Right now Rajuk's main concern is the Bijoy Sarani extension to Tejgaon Link Road. If they have to demolish any dustbin in the area, then they will allocate a suitable place after discussing with the DCC.