Rohingya repatriation in the doldrums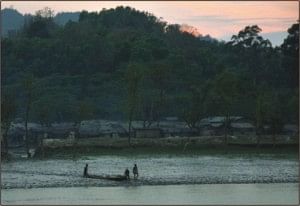 The long-standing Rohingya issue is unlikely to be resolved in near future as Myanmar is not responding to Bangladesh's appeal to take the refugees back and they also don't want to go home.
The entire repatriation process is stalled for over three years and the United Nations High Commissioners for Refugees (UNHCR) is urging the Bangladesh government not to send the Myanmar citizens back.
"They had fled from Myanmar due to persecution related matters. So now they don't want to go back. The UNCHR also doesn't want to force them," says a high UNHCR official.
The whole matter is very critical, the official adds asking not to be identified.
Earlier in 2005, the government sent a list of 14,077 Rohingyas to Myanmar authorities, who denied the list, saying they are not Myanmar citizens, according to sources in the government's Refugee Relief and Repatriation Commissioner (RRRC) office in Cox's Bazar.
The RRRC officials say UNHCR is also not helping the government positively as human rights situation is not good across the border.
Now 23,695 Rohingyas reside at two camps in Kutupalong in Ukhiya and Nayapara under Teknaf.
Their number is increasing every year due to their high birth rate, the sources say. In 2004 the number of Rohingyas at the refugee camps were 19,841 in 2,976 families. Only 92 refugees were sent back in 2005.
As many as 9,616 refugees in 1,255 families are waiting for repatriation and had once been cleared by the Myanmar government. But diplomatic tangles reportedly stall the process.
Allegations are rife many refugees who were repatriated over the years came back crossing the border and are now living with the local community as unregistered Rohingyas in Cox's Bazar, Bandarban and Chittagong.
Many of them have allegedly secured Bangladeshi citizenship as they managed to enrol themselves on the voter list.
"It's easier for them as both local people and Rohingyas talk almost the same dialect and have similar complexion, said a local journalist, who is working on Rohingyas for over a decade.
Rohingyas are a Muslim ethnic minority who live in the northern state of Arakan near the Myanmar-Bangladesh border. In 1978, 1.67 lakh Rohingya refugees crossed Bangladesh border following the Myanmar army's "Operation Nagamin Sit Sin Yay" [Dragon King].
After an executive order of the government, about 2.5 lakh Rohingyas were registered from November 1991 to June 1992 and about 2.37 lakh refugees were repatriated till May 2005.
Local people from Teknaf and Cox's Bazar say Rohingyas indulge in theft, robbery and different other social crimes, though they are not allowed to leave camps without permission.
Speaking anonymously, an RRRC official says the Rohingyas are much interested to stay in Bangladesh as UNHCR sent some of them to Western countries.
"So far they have sent 78 Rohingyas to Canada. So the rest are much interested to stay here as they might have chances to fly abroad," the official adds.
During a recent visit to a refugee camp, it was seen that each family of up to ten members was living miserably in a single 70-80 square-foot room made of polythene sheets and bamboo on mud floor.