3G licences by March
BTRC chief assures mobile operators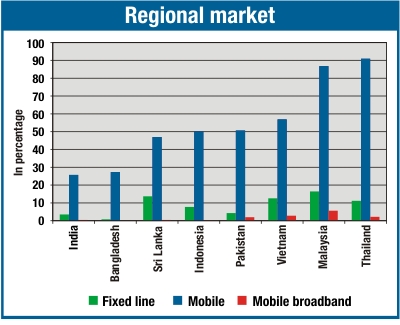 The telecom regulator yesterday assured mobile phone operators that it will issue 3G licences by March next year, at the time when WiMax will be ready for launch.
Manzurul Alam, chairman of Bangladesh Tele-communication Regulatory Commission (BTRC), said: "The 3G licences will be issued within the first quarter of the next year, according to our deadline. Definitely, the licences would be awarded through an open auction."
Alam's declaration came as a relief to the operators, as they may regain business by providing mobile broadband in Bangladesh.
Experts said licensing the 2100 MHz spectrum for 3G services would enable Bangladeshi operators to launch mobile broadband services, with which customers can get fast and easy access to the internet and other online services.
However questions were raised as to which technology, 3G or WiMax, will truly be relevant to Bangladesh market. The BTRC chief said: "Let the customers and the market decide which technology is suitable for Bangladesh."
"3G will spread much faster than any other forms of technology," Alam said.
The BTRC disclosed its plans to introduce 3G at a workshop yesterday on 'Broadband for All', organised by GSMA, the global body for mobile industry.
The GSM signal covers about 95 percent of Bangladesh's area, but the mobile broadband marker remains untapped. If mobile broadband can be provided at affordable prices, the number of subscribers of 47 million will reach 70 million by 2011.
Bangladesh has the world's lowest internet usage rate, having less than 1 percent internet penetration. The whole broadband market is dominated by local ISPs (internet service providers).
Operators, however, are anxious about what the auction price will stand at, when BTRC arranges for the auction for 3G. The WiMax operators recently hiked Tk 215 crore for each licence. The operators will have to launch WiMax by March next year.
Among the three WiMax licence holders, only one could pay the licence fee within the deadline.
Speaking at the workshop, experts discussed the EU 3G auction model, where operators failed to provide 3G broadband at affordable costs, as they hiked the price to an 'unpractical' level.
Referring to the EU auction model, Oddvar Hesjedal, the chief executive officer of Grameenphone (GP) said, "It was a mistake made by the EU. For that mistake, regulators should not be blamed only, operators had the same responsibity for calling high price at the auction."
Echoing GP boss, BTRC chairman said it is up to the operators as to how an auction should go. It is not a matter of pressure tactic, he said.
About the rational pricing model for 3G, Mohammad Mahbubur Rahman, secretary to the post and telecommunications ministry, said operators should try to find a balance between capital expenditure, auction price and tariffs.
Taxes remain a major barrier to growth of this sector in Bangladesh, said Ricardo Tavares, senior vice president (public policy) of GSM Association. "These are unfair barriers."
"Bangladesh, which has a very few fixed-line connections, could realise major social and economic benefits from the widespread and availability of mobile broadband services," said Tavares.
The country has a huge demand for communication and information services that can improve people's lives and make businesses more productive, he said.
Rob Nicholls, consultant of Gilbert+Tobin, Supun Weerasinghe, chief operating officer of Dialog Mobile, Sri Lanka, Martin Backstrom, vice-president, (network, market unit South East Asia) of Ericsson, Bimal Dayal, vice-president and country manager (business development) of Qualcomm India and South Asia, Bidyut Kumar Basu, chief commercial officer of AKTEL, Azmat M Khan, deputy general manager (strategic, planning and business development) of Warid Telecom took part in the daylong workshop.