<i>Pollution takes serious turn at Kaptai Lake </i>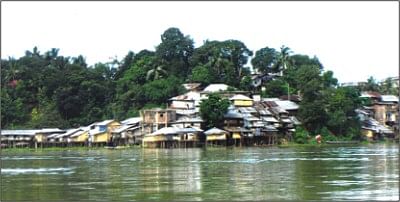 Pollution at Kaptai Lake is taking a serious turn due to open defecation by the slum dwellers and unabated dumping of garbage and wastes everyday, causing waterborne diseases like diarrhoea, dysentery and jaundice.
The people in Rangamati and Kaptai may face disasters if water pollution and crisis of safe drinking water continue. It also may cause environmental disaster any time, environmentalists said.
Dumping of wastes, open defecation by the slum dwellers and the passengers of water transports are the prime causes of pollution at Kaptai Lake, sources said.
They said several lakh people living in the lake areas in Rangamati and Kaptai are facing the problem as they use water of the lake in daily household and other purposes. Many of the families, including indigenous people, used to drink lake water directly.
Rangamati unit of National NGO Forum, working on safe water and sanitation in the Chittagong Hill Tracts (CHT), also found very alarming result during its survey and test on lake water.
Its officials have collected water from the most polluted areas of the lake. Total Coli Form (TCF) and Facile Form (RCF) were 800 and 300 respectively in per 100 millilitres in the Rajbari area, 500 TCF and 350 FCF at Banarupa while 600 TCF and 450 FCF in the Reserve Bazar area, according to the test. TCF and FCF level should be zero in water, said Alak Bikash Dewan, an official of the NGO Forum.
Md Anwar Hossain, environmentalist and secretary of Rangamati Environment Conservation and Development Organisation (RECDO), said immediate step is needed to save the lake from pollution. Otherwise, it may cause disastrous situation in future.
He said due to the pollution, waterborne diseases are spreading fast as many depend on the lake water for their bathing and drinking.
Following this, number of patients with waterborne diseases at the Rangamati General Hospital was also increasing, district Civil Surgeon (CS) office sources said.
"In 2007, around 12,492 were attacked with diarrhoea. Of them, four died at Rangamati Hospital. It's likely to increase this year as the number of diarrhoea patients has already reached 9,939 until September. Besides, about 8,837 suffered from dysentery and 772 from jaundice last year. The number of dysentery patients is 5,344 and jaundice are 445 this year (January-September)," they said.
Kazi Nazrul Islam, a member of Kaptai Lake Control Committee, said it's right time to take immediate and necessary coordinated steps to save the lake from pollution and encroaching as well.
Md Firoz Miah, sub-divisional engineer of Department of Public Health Engineering, said they are only entrusted with testing supply water not the lake water.
The department, however, is currently supplying 15 lakh gallons of water daily to the people against the demand of 18 lakh gallons from it's three water treatment plants in the town, he said.
But many people said the water, the department supplies, often augurs bad smell of bleaching powder for which they do not drink it.
Defending the department, Executive Engineer Md Abu Khaled said they use acceptable level of bleaching powder with its supply-water and its not harmful to health.
The Kaptai Lake having 700sq km vast water body was created after building Kaptai Hydroelectric Power Plant (KHPP) in 1960. The dam was constructed at Kaptai upazila for generation of electricity, development of waterway and largescale fish production, sources said.