'Sick' Pintu sent to jail for assaulting deputy jailer
His division cancelled; criminal case filed against him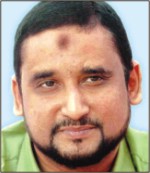 The jail authorities yesterday stripped detained former BNP lawmaker Nasiruddin Ahmed Pintu of division status in confinement and brought him back to Dhaka Central Jail from the prison cell of BSMMU after Pintu assaulted a deputy jailer.
The jail authorities also filed a case against Pintu last night in connection with the assault on Deputy Jailer Nasir Ahmed.
Nasir said Pintu swooped on him around 1:00pm when he went to his cell to request him to appear before a court.
"Today was scheduled for his appearance before court in two cases. As I requested him to appear before the court, he started slapping and punching me indiscriminately. He used filthy language while he was assaulting me," said the deputy jailer who filed the case with Shahbagh Police Station.
Pintu, accused in 14 cases including murder, extortion and corruption cases, was sent to jail on February 15 last year after he surrendered before a court. He spent around 10 months in the prison cell of Bangabandhu Sheikh Mujib Medical University (BSMMU) in three phases. Pintu is on bail in eight cases.
BSMMU sources said Pintu was discharged from the hospital around 8:00pm following jail authorities' request. They said the jail authorities took him back to jail.
Terming the incident regretful Inspector General of Prisons (IG-Prisons) Brig Gen Zakir Hassan told The Daily Star, "It is shocking that a former lawmaker can assault a prison official."
"We must take punitive measures against him, including the cancellation of his division status, in accordance with the jail code. He would not be allowed to meet his relatives for a certain period," the IG-Prisons said. He said, "We will inform the court about the attack."
Deputy Inspector General of Prisons Maj Shamsul Haider Siddique told The Daily Star last night that Pintu was kept in a regular prison cell named Banaphul.
Sources said he stayed at BSMMU making excuses of fake illnesses with the help of a number of unscrupulous doctors. He had been skipping most of his court appearances claiming to be sick.
Earlier, a court issued a notice upon the jail authorities asking them to explain as to why they failed to produce Pintu before the court.
In March, the jail authorities had cancelled Pintu's division status for around two weeks in connection with using a cell phone inside the jail, which is a violation of the jail code.
Meanwhile, discrepancies were discovered in Pintu's medical documents.
Independent specialists who examined the documents said it seemed the papers were prepared to be used at court to Pintu's advantage.
Pintu was moved to the Coronary Care Unit (CCU) of BSMMU after he complained of severe chest pain 10 days ago. Before that he was undergoing treatment at the general prison ward for eye problems.
The joint force recently launched a probe into his current state of health.