Film based show
"Chalachchitrer Galpo" on ATN Bangla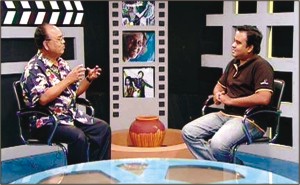 A film based programme, titled "Chalachchitrer Galpo" will be aired on ATN Bangla at 1:30 pm. Directed by Amjad Kabir Chowdhury, the programme is hosted by popular cine-commentator Mazharul Islam. This is the 129th episode of the programme.
The show deals with film-related news and other issues relating to the silver screen. A celebrity cinema personality is invited in each episode of the show. This show is popular amongst the viewers mainly because of the captivating discussion that takes place between the host and the celebrity and also a peek into the movie scenes and film songs.
Today's guest is young filmmaker SA Haque Alik. Alik has carved a niche for himself, thanks to his hit film "Hridoyer Kotha". His new film "Akash choan valobasha" was released on October 24. The director will share his thoughts and expectations on this film in the show today.