. Talking Polls and Beyond
'God knows what we will get through the election if a bad election is held...'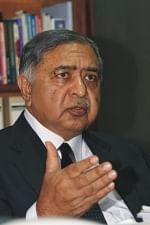 A senior advocate of the Supreme Court, Dr Kamal Hossain received Barrister at Law degree from Lincoln's Inn, London in 1959. He obtained his BA Honours in Jurisprudence in 1957, Bachelor of Civil Law in 1958 and Doctor of Philosophy in 1964 from University of Oxford, England. Member of the parliament from 1972 to 1975, he was the chairman of the constitution drafting committee. He served as law minister in 1972, foreign minister (1973-1975) and minister of petroleum and minerals (1974-75). Dr Kamal also served as vice-chairman of Bangladesh Bar Council, president of Supreme Court Bar Association, chairman of the advisory council of Transparency International, chairperson of Commonwealth Human Rights Advisory Commission and UN special rapporteur on Afghanistan. He is the vice-chairman of International Law Association and has been serving as the chairman of Bangladesh Legal Aid and Service Trust since 1993. He formed Gono Forum in 1993. Shamim Ashraf and Hasan Jahid Tusher took the Interview.
You have termed the commerce adviser as "Mini Kissinger." Could you please clarify?
Today, the entire country is keenly looking forward to participating in a free and fair election. The election date has already been announced and the schedule could be expected within a few weeks. It is at this time that some of the parties have started to raise questions regarding the reform measures which have been on the national agenda for over two years and which have wide support not only from political parties but also civil society and conscious citizens. The aim of the reform measures has been to ensure that nominations are not auctioned to the highest bidders, as has been the case in the past.
There was no need for the "Mini Kissinger's move." The EC just needed to say: "We have heard your opinions and will take our next steps." The CA might have asked them to comply with the rules. The EC is not expected to carry on an unending dialogue, thus delaying the elections, nor is the caretaker government in any way expected to interminably prolong the so-called dialogue process. Democratic conventions call for the views of all concerned to be heard, but the EC and the CTG have to take decisions in the light of the constitution and the law.
I have taken exception to the role of an adviser who is seen to be carrying on negotiations which are secret, and it is not clear that these are even authorised by the council of advisers or the chief adviser, but no statement has yet emerged from the CA or the council nor has any report been made public of what has been the subject matter of such negotiations and discussions. This gives rise to speculation and uncertainty, and it is quite undesirable at this juncture as it gives rise to suspicions that some wheeling and dealing is going on. Such an impression must be avoided at all cost, just as we must avoid statements from responsible quarters that certain parties must be brought into the election at any cost, because that cost cannot be non-compliance with rules aimed to ensure free and fair elections, nor capitulating to demands which involve violating the law or asking for immunity for people who have been prosecuted or convicted. Absolute impunity had in the past led to rampant corruption and subversion of free and fair election.
You said giving 206 bails in 100 minutes was not possible through legal procedures. How did it happen then?
That's why I have demanded an inquiry and will keep on pressing for this, so that it can be determined who is responsible for undermining the judicial process. This matter has been drawn to the attention of the CA. Prompt corrective action must be taken to protect the judiciary and the judicial process.
What conclusive result of the reform exercises do you see?
The EC has prepared a credible voter list and declared an election date within the declared timeframe. This is a solid achievement. Delay in implementing the remaining reforms can be avoided even now by not treating the dialogue process as endless, and by curbing endless negotiations and a tendency which shows that the CTG is unwilling or unable to complete its task without deviating from its constitutional duties. It is not permissible for the CTG, which is oath-bound to discharge its functions in accordance with the constitution and the law, to be seen to be condoning crimes and manifesting weakness in the face of lawlessness. When one who is wanted by the law for production in the court appears and sits with the CA, during which no action is taken and for which no explanation is provided, serious questions arise about the effectiveness of the CTG.
Do you think the government kept off from arresting Jamaat secretary general Mojahid willingly?
Today, I want to raise such questions. I don't want to see the government showing any leniency to any party; they've shown it to many parties, not just to Jamaat.
This incident frustrated many who questioned whether they are better off with the CTG than a corrupt elected government…
What could you do other than support this government during these two years? So we're demanding election. But only God knows what we will get through the election if a bad election is held and these elements who are coming out control the election. We want to rescue ourselves from the destructive activities of those elements who are to be dealt with according to the law. If the law fails to do it, and if the CTG also fails, the national goal of moving forward will be subverted. We should have learnt lessons from the experience of the local elections, where delay in disposing of the pending cases enabled those who are being prosecuted to contest.
Is there any fear of major graft suspects participating in the elections?
The right of political parties to be consulted on electoral reforms is valuable, but it can't be used as a means of obstructing the holding of timely elections. No one can be allowed to insist on release of those who are prosecuted and convicted, and having the case withdrawn as a condition for participating in the election. Strong and effective action against corrupt persons should not be compromised under pressure from those who would like to protect such elements and unleash them again in a society which has suffered from their predatory activities.
Do you think the government is being blackmailed to sit with the parties?
There shouldn't be weak points. We should ask them why. The government must demonstrate firmness in protecting our economy and our society from the destructive activities of those who had undermined both our democratic institutions and our economy.
Are the parliamentary elections going to take place on December 18?
We want it, and the whole nation wants it. I can't talk about anything else other than hope. I hope and I expect it'll be done, because there is a constitutional duty to do it and the whole nation has made a contribution -- time, energy, and resources. You have every right to expect that it will take place.
What could be consequences if the elections are not held?
I don'' want to speculate on something which is still six weeks away. With a united effort, the people can overcome those who want to create obstacles and barriers.
Many see uncertainty over holding of the parliamentary elections on December 18. How can it be removed?
I don't want to be in uncertainty. I want it to be done. I am rather in uncertainty about those who are talking about confusion and creating the same. They don't want election. They want to avoid the legal procedures they are in. They will be in trouble if a government of honest people is elected through a fair election.
To remove it, we need unity. The media should be very active. There should be pro-election rallies throughout the country, and citizens' rallies for honest, clean elections and for the government to move forward to protect honest citizens from the activities of those trying to obstruct elections.
Can the elections be held if emergency is withdrawn ?
So long as the law can be effectively enforced, yes, we can do it without emergency. There is no magic about emergency, except that it makes effective enforcement of law possible. If you can ensure that, we many not need to have emergency. The EC should be the judge.
Some parties opposed holding of upazila elections five days after parliamentary elections…
I leave this question to the EC. From a very early stage, we said it was up to the EC to decide whether it would go by the original roadmap. It has decided to make some alteration. And I don't get why the parties are opposing because upazila election is not political.
You said recently that there should be post-election unity…
Elections should be able to strengthen national consensus, and see that the government formed by the majority can involve those in the opposition to come into a government of national unity. Unity is necessary in order to meet the challenges of strengthening institutions and adopting policies which require a sustained national effort in the face of the global economic situation.
The 14-party and four-party alliances have said that they won't participate in polls without Khaleda Zia and Sheikh Hasina, and if there is emergency.
We need constructive thoughts. No one, no party, big or small, should take a position that'll obstruct the holding of free and fair elections.
How acceptable would an election held under emergency be?
That depends on the circumstances. If the people feel that in this situation emergency is not necessary, and that under emergency people's rights are restricted, then holding elections under emergency will raise questions.
What should be army's role during election?
The EC and the CTG, upon mandate by the constitution, are to ensure a congenial atmosphere for the elections. So, the police, aided by the military where the authorities consider it necessary, are required to play their role in ensuring that all voters can vote without fear or intimidation.
What's your opinion about the so-called Minus-2 formula?
This is a past issue; historians can debate about it later.
Will registration of parties bring a qualitative change in politics?
That's the aim of the whole process. National consensus has identified this as a major reform measure through which better elections can be ensured and better democratic institutions built. We know how democratic institutions have suffered due to sick politics and lack of good elections. The real aim is to generate healthy and clean politics and, through that, to make democratic institutions function in the interest of the people and a brighter future.
The RPO has been relaxed. Do you see it as a compromise?
Those having the responsibility for this should strike a balance, and accept, or not accept, some suggestions after listening to all the views. At the end of the day, one should basically accept what is considered to be a national consensus. That's what we all should strive for.
Will Gono Forum compete in the elections with the 14-party alliance, or separately?
We'll have to see. My basic point is a broad unity of all like-minded parties. Besides the 23 points of the 14-party alliance, we may have a common minimum programme on national economy, stability, democracy, education, and all the important national issues. We've made our position clear; that we would like to see unity of all like-minded parties. It's not for us to impose.
There was nomination trade in the 14-party alliance for the January 22 election. Did you protest then?
Yes, I protested then. Now they have to pay for it. If any of the like-minded parties breaks the rule, we'll have to protest.
Will you quit the 14-party alliance if it does the same again?
Wait and see. No one will say I'll just accept that. If an honest person says he supports this and someone violates it, then he is no longer expected to be there unless there are some compelling reasons.
Do the "procession of bails" and meeting by "Mini Kissinger" mean that the government has failed in its fight against corruption?
I don't want to say yet that the government has failed. We've seen some weakening, and that's because we feel that steps were taken to bring in some parties at any cost. This is why I've made my position clear; that it shouldn't be "at any cost." For free fair elections, you must uphold the constitution and the law. You won't get it if you allow the law and the constitution to be violated.
The parties have said that they will legalise the good steps of the CTG. In what form is that possible?
There is no question of legalising, this is not a martial law government. It is a government that has come under the umbrella of the constitution. When a government follows another, you normally assume that it'll maintain continuity, and if you don't, it means problems for the government that comes in, not the one that has gone. A new government is expected to maintain the continuity and stability.
When there is no emergency or CTG, what will be the fate of anti-graft drive since the main parties are against it ?
I agree that the people who are opposing it have some influence on party policymaking. But we can, in a body, raise our voices to corner them and fight them.
Do you think too many arrests weakened the anti-corruption drive?
Definitely. It should have been targeted. They took a strategy so that some people could be released.