Fiery intensity, a flowing sweetness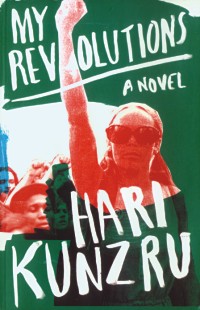 When I picked up Hari Kunzru's new novel My Revolutions (New Delhi: Penguin Book; 2007) the cover focused on a woman with oversized sunglasses, her right fist raised high, other faces and fists behind her -- I was immediately intrigued. Here was a novel about the sixties from an author who wasn't born until 1969. What story did Kunzru want to tell?
If your reference point about the sixties in Britain is the psychedelia brought to you by Austin Powers, you'll be disoriented. Those years also witnessed campus occupations, street fighting in protests against the Vietnam War, the emergence of collectives and communes, and the dizzying spar of ideologies and factions. Ultimately, a fragment from that milieu would be seduced by the Bomb.
Britain's urban guerrillas were not as notorious as the German Baader-Meinhoff group, the Italian Red Brigades, or the U.S. Weathermen. The best-known British outfit might have been the Angry Brigades, but in a postscript Kunzru insists that his novel is not about the Brigades. He notes that the London Post Office Tower was bombed in 1971 without anyone claiming responsibility. So Kunzru's make-believe group files that claim. Not long after such groups appeared, the scene attracted novelists. Why not? It was a scene involving great energy simultaneous with secrecy, game playing, and psychological complexity -- sweeping acts and whispered emotion -- rich terrain for fiction writers.
In The Possessed, Dostoyevsky depicted a milieu of the same sort from mid 19th century Russia. Closer to our time, the Germans were fictionalised by Heinrich Boll in The Lost Honour of Katarina Blum, the Americans in Marge Piercy's Vida. Nearly thirty or more years after those books, Kunzru mines the British scene.
Kunzru has chosen a protagonist at the heart of the action. An ambitious choice. I wondered, would the voice be honest, or would he succumb to caricature? To my delight, Kunzru pulls off a very believable character in the midst of a well-imagined radical setting.
The story is told from the late '90s, looking back.
Michael Frame is about to receive a 50th birthday party from his wife Miranda and stepdaughter Sam, the family he's loved for sixteen years. The celebration is Miranda's gift to him, and though Michael's love for Miranda and Sam anchor his being, he takes the BMW and flees to France.
Michael's increasingly alienated from the person Miranda is becoming. "There used to be a contradiction between money and Miranda, a short circuit. Like me, she belongs to a generation whose selfishness was tempered by a more-than-passing interest in renunciation. We had the notion that in some variously defined way, simplicity was glamorous, hip. So although she's now a thrusting entrepreneur of the type celebrated in the glossy magazines she buys with increasing frequency, Miranda remains conflicted about consumerism. I diagnosed her silent tea-drinking as a symptom of guilt, the unease of a woman who'd once spoken about alternate lifestyles with the emphasis on 'alternative' rather than 'lifestyles.'"
The distance from Miranda grows as Michael confronts the past he's hidden from her. "And meanwhile, in secret, it gradually came to seem important to me to make something unified from the broken threads of my life, not to lose touch altogether with Chris Carver and his dreams of revolution. Did anything connect me with who I'd once been? And if not, what had I lost, owning only half a life?"
On a recent trip to France to rekindle their romance, Michael thought he saw Anna, a woman he used to love but who's supposed to have died in a terrorist attack decades earlier. Now he's driving back to the village to knock on her door.
The forward motion of the novel comes from this appointment with history. The past has caught up with him. Besides the vision of Anna, something more sinister has barged into his life. Something from the bowels of "that part of the British establishment that identifies its own interests with the interests of the state." From those who are "unsentimental about human life."
To resolve his crisis, Michael remembers himself as Chris Carver.
We start with Chris as a boy seeking escape from the cramped world of his family. Freedom came when he discovered the anti-nuclear movement of the early 60s. Outgrowing them, he moved on to militant demonstrations and prison. Surviving drugged out trips and ideological wrangling, he ended up in a house collective. Drawn to their energy, yes. But there, at its very centre, was the enigmatic, highly desirable Anna.
With them, Chris shared exciting housing squats, scary police raids, and gruelling criticism/self-criticism sessions. He yearned for Anna's love through the fluidity of desire and manipulation that defined open relationships. The group's words and deeds escalated until Chris's world spun out of control. He reached a point where none of his comrades "seemed to want to be reminded of the way we'd talked to one another only a few months previously, how we'd intended to escape the binary madness of East and West, how we respected human life."
Michael looks at his present world with a reflective eye, but the narrative with Chris is presented without commentary from the older consciousness. We see it as it was. The only consciousness from the future that Kunzru allows is selection of what's recalled. I chewed over this narrative strategy, but in the end I concluded that it worked. We recognize the vitality of that earlier time, the idealism and camaraderie, but we also experience the absurdity, bluster, and self-destruction. Eventually we have a good sense of what Chris has shed and what he has preserved from his two lives.
The epigram from Rumi at the beginning of the book is apt. I used to have fiery intensity/and a flowing sweetness. The waters were illusion/The flames made of snow. Was I dreaming then/Am I awake now?
In a few lines the poet has distilled what takes the novelist 277 pages. But what a whirlwind Kunzru takes us through in those pages.
Mahmud Rahman is a Bangladeshi-American writer currently on an extended visit to Dhaka.