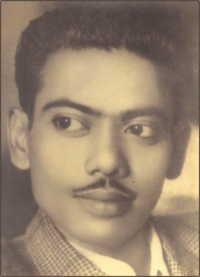 Today is the birthday of celebrated filmmaker Zahir Raihan. Originally named Zahirullah, the filmmaker became popular as Zahir Raihan. The legendary filmmaker's repertoire includes Jiban Thekey Neya and Kancher Deyal, which are considered one of the very few classics in the history of our film industry. Because of its unique form and style, his documentary Stop Genocide, featuring the brutality of the Pakistani military during the Liberation War, is ranked one of the top 10 documentaries of its kind in the world.
In 1952, Raihan went to Calcutta to learn photography and enrolled in Pramathesh Barua Memorial Photography School. He stepped into the film world in 1956. Kakhono Asheni, his first film, was released in 1961.
Like other renowned filmmakers of the sub-continent such as Satyajit Ray and Mrinal Sen, Zahir Raihan also made movies based on literature. But, while the other filmmakers made movies based on others' novels, Raihan used to make movies based on his own literary works.
A winner of Bangla Academy Award for his novel Hajar Bachhar Dhorey, Zahir Raihan has written several acclaimed works such as Shesh Bikeler Meye, Arek Falgun, Baraf Gola Nadi and Aar Koto Din.
When he made big screen adaptation of his novel, it became even more appealing and aesthetically powerful. Renowned filmmaker Badal Rahman said, "Raihan's popular film Kancher Deyal is based on his own novel with the same title. The film proves his mastery as a filmmaker."
"He always experimented on celluloid. Moreover, he was a great organiser who used to inspire people to work in films. Many directors like me came to the industry, inspired by Zahir Raihan," Rahman added.
A communist by conviction, Zahir Raihan was directly involved with the progressive movement in the country. He used to express his reactions to the movements with his cinema.
He was one of the first 10 students to take part in a procession on February 21, 1952 despite there a ban on such activities. He and many others were arrested and then taken to prison.
His movie Jiban Thekey Neya depicted the autocratic rule of the Pakistani junta and inspired the people to protest. He started making an English film Let There be Light, which he could not finish as the Liberation War broke out. After March 25, 1971, he went to Calcutta and produced a documentary film Stop Genocide highlighting the massacre of the unarmed civilians by the Pakistani army. This film created a sensation all over the world.
Eminent film director Tareque Masud said, "Zahir Raihan will always remain an idol to the younger generation, especially for his dedication towards the society and his direct involvement with the progressive movement. To depict the Liberation War, he even changed his presentation style, to suit the documentary."
As a filmmaker Zahir Raihan is a part of our film history in many ways. Raihan's Urdu film Sangam was the first coloured film in undivided Pakistan. Another Urdu film, Bahana, directed by him was made in cinemascope format.
For his contribution to films, Zahir Raihan received many national awards including Ekushey Padak and Swadhinata Padak.
"With his disappearance on January 30, 1972, our film industry lost its guide. As a result we could not develop our industry the way we wanted," said Badal Rahman.
"His works should be preserved and documented properly," said Tareque Masud.
To celebrate the 72nd birth anniversary of this film legend, Bangladesh Film Development Corporation (BFDC) and fortnightly entertainment magazine Anando Alo have jointly organised a discussion programme today at 11 am at the Experimental Theatre Stage, Bangladesh Shilpakala Academy.
Information Secretary Jamil Osman will be the chief guest while eminent playwright Syed Shamsul Haq and Raihan's sibling Shahenshah Begum will attend the programme as special guests. Afzal Chowdhury, who was the cinematographer of most of Raihan's films, and popular cine-journalist Chinmoy Mutsuddi will also speak at the programme. The discussion will be presided over by A.N.M. Badrul Amin, managing director of BFDC.
The discussion will be followed by screening of clips from Raihan's films such as Let There be Light and Stop Genocide. Moreover, clips from a documentary on Zahir Raihan made by his nephew Sabbir Ahmed Shuvro, an expatriate, will be screened.
On the arrangement of the programme, A.N.M. Badrul Amin informed, "Though it's our duty to uphold the memories of Zahir Raihan, not enough is being done in that regard. We should arrange special programmes to introduce him to the younger generation."
However, everyone involved with the film industry wants Zahir Raihan's birth anniversary to be observed nationally, as without him our film industry is incomplete.