Poet Al Mahmud turns 73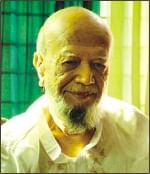 Today veteran Bangladeshi poet Al Mahmud turns 73. He was born in 1936, in Kasba, Brahamanbaria. It was a rainy night when he came into this world.
He came to Dhaka, looking for work, when he was 21. Around 1954, his first poems were published in the literary supplements of Dhaka and Kolkata. Soon poetry enthusiasts in Dhaka and Kolkata alike took notice. He regularly wrote for Chatushkon, Chaturanga, Mayukh and Krittibash. Several poems by Mahmud published in Kobita, edited by Buddhadev Basu, created uproar amid the contemporary literary giants. In Dhaka he started writing regularly for Sikandar Abu Zafar's Shamokal.
Pastoral life, rivers, villages, shoals, love and the human biophysical urges are dominant themes in his poetry. He provoked the core of poetic appeal through wielding common/ colloquial words from local dialects and created a new trend. A critique once evaluated him as an individualistic genius of poetry in the subjects of nature and rural community other than Jibanananda Das and Jasimuddin. For Lok Lokantor and Kaler Kalosh, two great works, Al Mahmud won Bangla Academy Award in 1968.
In 1975, Mahmud joined Bangladesh Shilpakala Academy as Assistant Director of Research and Publication. In 1993, he retired from the academy as Director. Al Mahmud has published more than 50 books of poetry, short stories, novels, articles and more. He also edited and ran a number of journals, magazines and dailies.
Al Mahmud's name will forever shine in the Bengali literature for his masterpiece Shonali Kabin. This is a landmark in Bengali poetry. The book was first published in 1973. It drew much attention at home and abroad. After the book was published, eminent philosopher Shibnarayan Roy commented: "Al Mahmud has an extraordinary gift for telescopic discrete levels of experience; in his poems I find a marvelous fusion and wit which reminds me occasionally of Bishnu Dey. The complete secularism of his approach is also striking…he was born and brought up in a very conservative Muslim religious family; it is not a secularism forced by some ideology, but present naturally and ubiquitously in his metaphors, images and themes."
Mahmud's other famous works include Mayabi Porda Dule Otho, Arobbo Rojonir Rajhash, Bakhtiyarer Ghora, Pankourir Rakto, Nodir Bhitorer Nodi, and Kobi-r Amtobishwash. Al Mahmud's poetic genius has been evaluated, recognised and honoured with many awards like Ekushey Padak, Philips Literary Award, Alakta Literary Award, Sufi Motaher Hossain Literary Gold Medal and many more.
Al Mahmud is fond of travelling and reading books. He has visited India, Saudi Arabia, Dubai, Iran, UK, USA, Canada, France etc.
The poet has five sons and three daughters. His wife Sayeda Nadira Begum is a major source of inspiration to the poet.