Hasina's treatment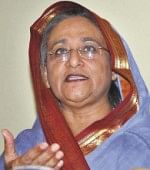 Everybody knows that AL president Sheikh Hasina narrowly escaped death in the notorious bomb blast on August 21, 2004. But her ears were badly damaged due to the terrible sound of the bomb blasts and the bullets fired on the AL rally. Not only her private physicians but also those of Square Hospital, where the government admitted her, unequivocally declared that treatment of her damaged ears was beyond their capability. Her last time treatment was done in the USA and she needs to have the treatment there again.
Some say it is all right that the interim government is not allowing Sheikh Hasina to go abroad for treatment. The logic is that she didn't develop the healthcare facilities in Bangladesh while she was the Prime Minister for long five years. Should Sheikh Hasina lose her hearing as a penalty for not developing much the healthcare system in the country? Even if she tried to develop a modern healthcare system during her only one-term premiership, the special hearing aid she needs now might have not been here! What other leaders who served for longer periods did to the medical facilities? My position is that she deserves parole for going abroad to treat at least the ears, before it is too late.
However, there is a problem from her party stalwarts. Some of them claim that while a detainee goes abroad, parole becomes automatically non-functional.
The party stalwarts demand Hasina's unconditional release from detention. Now most of the party men are asking for this, and they expressed dissatisfaction over the Chief Adviser's speech to the nation just because he didn't say anything extra judicial on their leader's release! Why should this be? If the party secretary can go abroad on parole (and can receive the required extension a number of times), why the government should release her while she is very much under trial on corruption cases? The party stalwarts must realise the truth and give up the extra judicial claim.
The government needs to be humane. It should not be thought that once she goes out of Bangladesh, Hasina couldn't be brought back for trial. Nobody from abroad (like the Canadian lawyer) should raise a hue and cry for her unconditional release if the cases are genuine!